Fishing Wednesday, 5-09-12, on Steve's 32' Luhrs, ?Bad Dog". I met Steve at his slip in Shelter Island at 5:30 pm Tuesday evening. I unloaded my gear, found a place to park my truck, and we both headed out to dinner at Point Loma Seafood.
I enjoyed several Wahoo fish tacos, while Steve had Halibut fish and chips. Both meals were great. We returned to the boat and Steve gave me the safety tour and other details on the boat where I would spend the night. Steve went home and returned at 3:30am.
We stopped at EB for a scoop of healthy Sardines and cleared the Point at 4:20am. The water was almost grease calm, with a slight swell. Visibility was about 1 mile, not quite foggy, yet a strong haze existed. We cruised out to the Rockpile at 13+ knots. Arriving at our first waypoint, the upper high spot, we were all alone. There were lots of bottom critters on the meter, and it sure was rocky, as both Steve and I lost gear to the bottom during the morning drifts. We covered several other high spots and a few deeper stones and hard bottom areas over the next few hours. Two other private boaters had joined us at the Pile, but no sport Boats.
We fished the Rockpile from 6am to 10am with no real signs of life anywhere, other than bottom critters. We caught some Rockfish, Whitefish and several Lingcod. Here I am with a decent sized Lingcod: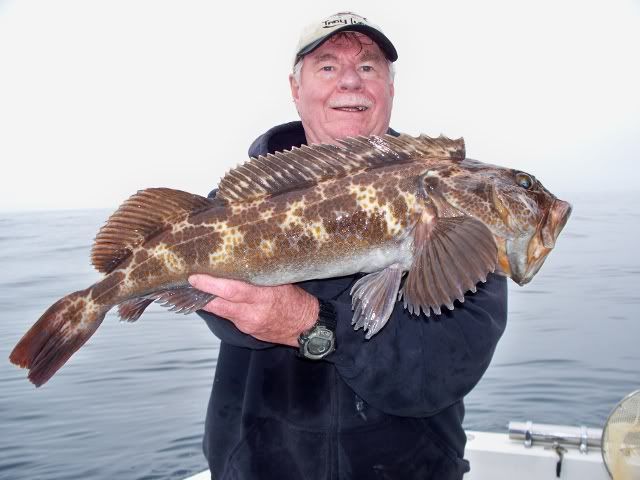 Getting restless, and now facing a ripping current, with an increase in the wind, it was time to move on. We took a look at South Kelp, same conditions, absolutely dead, no bird life, no bait on the meter, or other signs of Yellowtail or Barracuda activity. It looked like the wind was going to go off, with popcorn all around us, yet just like that it backed off?
At noon we moved up to the northern part o South Island and continued through the Middle Grounds trolling X-Rap Rapalas for nothing. There were still no signs of anything happening, nor were their any other boats present.
At 1pm we were joined by the San Diego and several other private boaters, I believe the same ones at the Rockpile? The San Diego approached from Pukey Point area, at North Island. The San Diego started a chum line and the birds started working. At first they drifted and later anchored up.
The area looked ready to take off, with lots of crashing birds, yet no noticeable boils, except from the ever present seals. We only saw the San Diego catch one Yellowtail; however their fish count totaled six Tails.
We metered spots of Yellowtail all around them for several hours; we slow trolled sardines and alternated by drifting for several hours through the crashing birds. I had two knock downs on the trolled sardines, and brought back mangled bait. At 2pm the San Diego moved to the Ribbon Kelp, we later followed them and saw them catching a few Barracuda. I caught one Barracuda on the surface iron. Called it a day at 4:30 pm when all the bird activity shut down.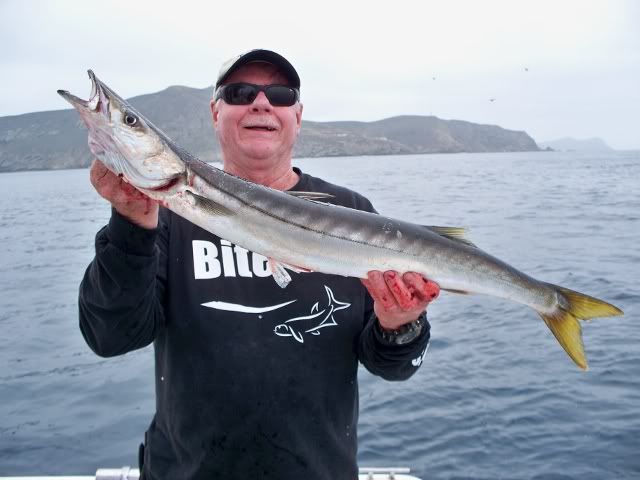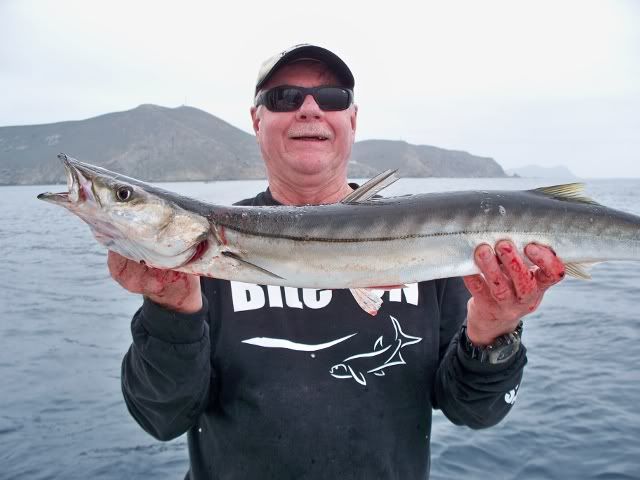 Water temps were 64.5 at the Rockpile and 65.5 at the middle grounds. Water was a blue grey and plenty clear, nice conditions for both areas. Fishing has got to get better considering those improved conditions? Timing is everything and I guess mine is just off so far this year, thank goodness it is early, three trips targeting Yellowtail and still a Virgin in 2012. Steve was bit more fortunate having caugh some Yellowtail in La Jolla when that bite started several weeks ago.
Thanks a bunch Steve, good to fish with you again, hoping we share a rail together real soon! Love the comfort of your boat.
Hook up! Cory