Fishing Sat. 6-09-12, with Lal on his 18? boat: The ?Rubber Ducky?. I met Lal at his house in Cerritos at 5am. We headed down to Davies in Los Alamitos and launched the boat at 6:00 am, our target being primarily mixed Bass at the Pipe in Newport Beach and other points south, and perhaps we would search for some Barracuda a bit later in the day.
Lal and Japan Ron had a stellar day fishing for Bass the previous day, releasing 50 mixed Bass together. We were determined to match that feat if possible. It was a bumpy ride out, although according to Lal, nowhere near as rough a ride out, as on Friday. The wind was blowing out of the south, at about 10 knots, with a 2 foot wind chop, which we were quartering down the beach.
On our way down to the pipe we stopped on some stones on the Flats in Huntington Beach. The smaller Sand and Calico Bass wanted to play at first; however, soon we were at slack tide, and the bite died, so we continued south. The drift was quite fast with a decent current, necessitating numerous re-sets on the drift.
Arrived at the Pipe, which already had several other boats fishing it. We had a steady pick on both Calico and Sand Bass, mostly in the one pound range with a few to two pounds. Lal moved us into a little deeper water, where the marks were not as large, and there were fewer bait marks. There was no need to cast out, as the current scoped you out in a hurry, using 1 oz. lead heads. To hold bottom you had to constantly free spool back. We got lots of bites on the drop, almost always resulting in a Calico Bass, their motus operendi? Good to see the Cali?s active.
So I drop my plastic down right over the pipe and as I hit bottom, put the reel in gear and take two cranks and my rod loads up. Uh oh, it begins to take some serious drag. I wind and pump the rod in a fury, which is doubled over, hoping to avoid the big fish finding its cave in the structure. Whew I gain some more line, and it is a tussle all the way up. You could see the large dark shadow of a fish as it came to the surface. It was a big old grumpy, with grey whiskers, and weighed 7 pounds on the Boga Grip.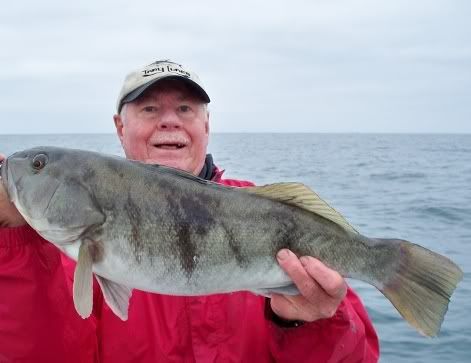 Soon after I released the big Sand Bass, Lal gets hammered and it also takes some serious drag, unfortunately Lal?s fish makes it to the structure and breaks off. He reels in a bunch of shredded line. A few minutes later Lal hooks another large Sandy, and this one makes it to the surface. A five pounder, our second largest of the day: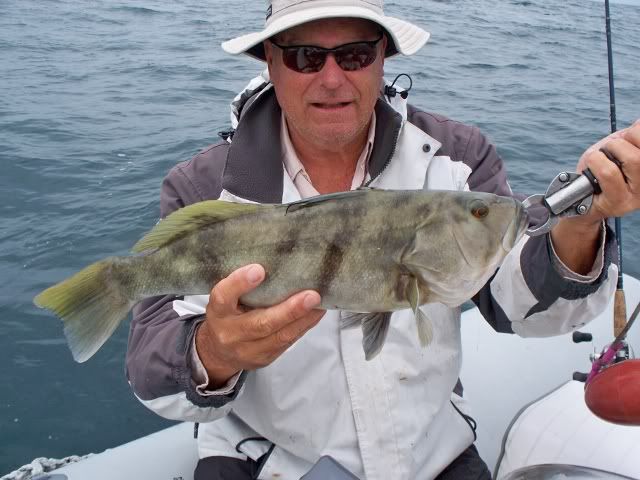 Lal sets us back up and once again I hook a bigger fish. This one is a little over 4 pounds: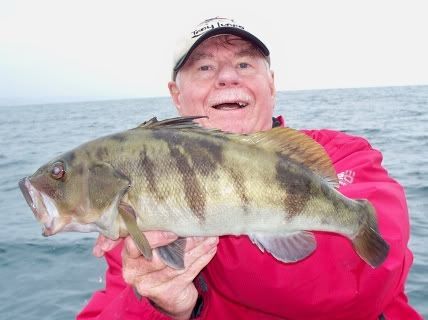 We had obviously stumbled on to a school of big boys. In the next five or six drifts we land a few more between three and four pounds: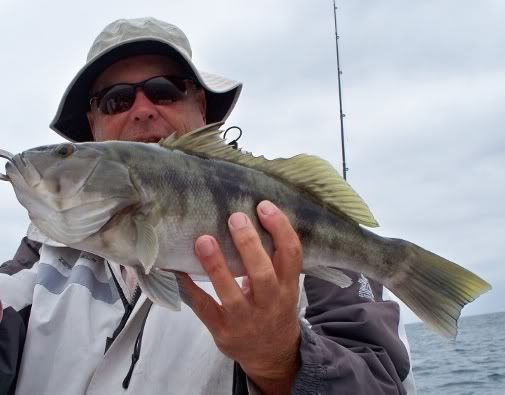 [IMG]http://i1091.photobucket.com/albums/i394/tunaslam/]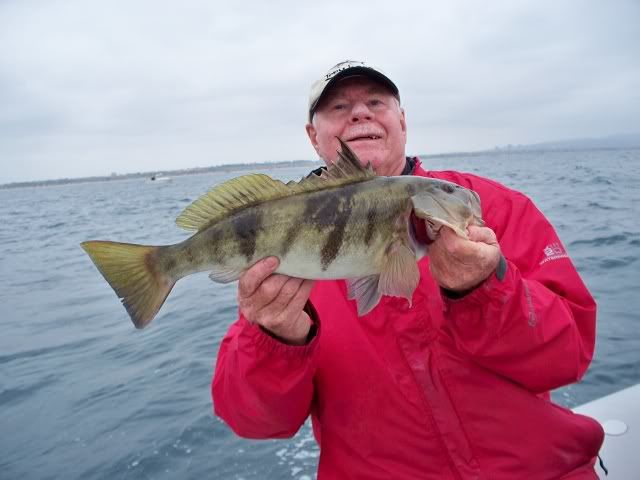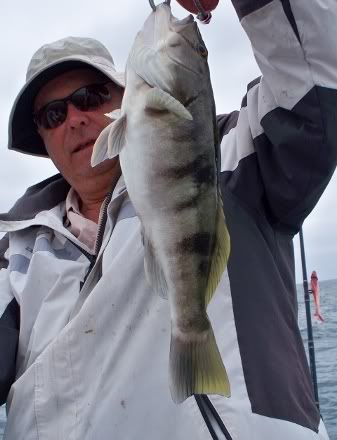 We continued to pick at a few fish on almost every drift, as we had now both released over 20 Bass each. It was bound to slow down and did in the next half hour, now approaching high noon. I release one last smaller Calico Bass and our count hits 50 mixed Bass for the morning between us, Friday?s count.
The radio was abuzz with the Barracuda being on the chew a mile off the Huntington Beach Pier, so we head that way. We could see the fleet ahead of us, although it was pretty much disbursing. It also was spread out over a rather large area. Just ahead of us, a few hundred yards from the anchored Sport Boat Victory, we could see birds diving on boiling fish.
Our first couple of casts of the iron into the boils resulted in some short bites, yet no solid hook ups? Then several times I got bit and had the fish close to the boat before it broke free. Lal finally got us on the board and landed his Cuda, a 30 incher. Then I get bit and this fish has an attitude, as I have to switch positions on my Rod and pump the big Barracuda to the boat, rather than straight grinding it in. Yep it?s an easy 35 incher. We bleed five fish for Lal?s friends at the Fire Department, before releasing another five and then they were gone!
Had we joined the party earlier we would have caught easy limits, I?m sure equaling last week?s limits of both Bass and Barracuda? I kept ten Barracuda for the smoker last week, and the results were quite good. Many at my work had never had smoked Barracuda before and all thought they were delicious. This should hold me off until the Tuna and Tails hit the deck for more smoked fish treats?
Although we would both rather be fishing for White Seabass or Yellowtail and of course for Tuna when they arrive within range. The weather lately has not been conducive to an Island run on the Ducky, either to Catalina or the Coronado?s, bumpy and windy in the morning with forecasts of heavier wind in the afternoons. Besides a long run to San Diego, given the weather and inconsistent bite has not been appealing, although we are both itching to catch a Yellowtail. Someday soon we hope? At least this good of local fishing makes our trips out rewarding.
The water temp was at 66.9 degrees, about the same as Friday according to Lal, and the water clarity was decent. This has got to bode well for the slowly building offshore scene and better Island fishing?
We checked out Izor?s Reef for nothing and called it a day at 1:30pm, although the wind appeared to be backing off.
Some Barracuda pictures at Lal?s house with the Ducky in the background: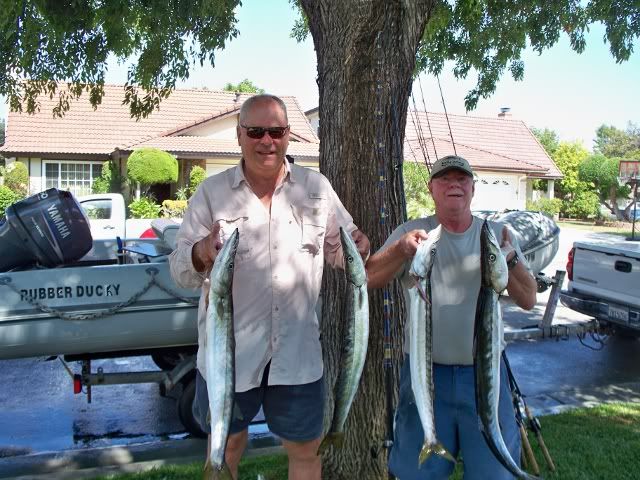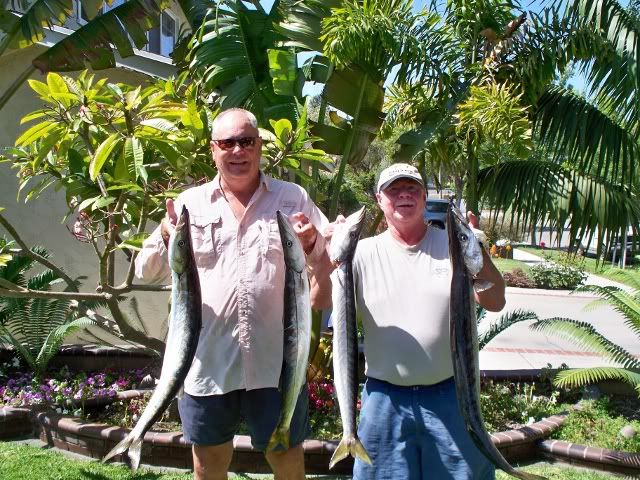 Thanks Lal, another great adventure on the Rubber Ducky!
Hook up! Cory