Fishing Wed. 6-27-12, with Lal on his 18? boat: The ?Rubber Ducky?. I met Lal at his house in Cerritos at 4:30am. We headed down to Davies in Los Alamitos and launched the boat at 5:15 am. It has been a long time since we were able to leave the harbor in these ideal conditions: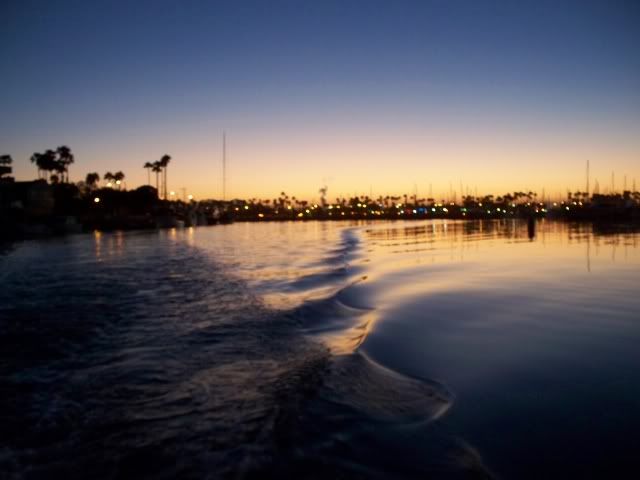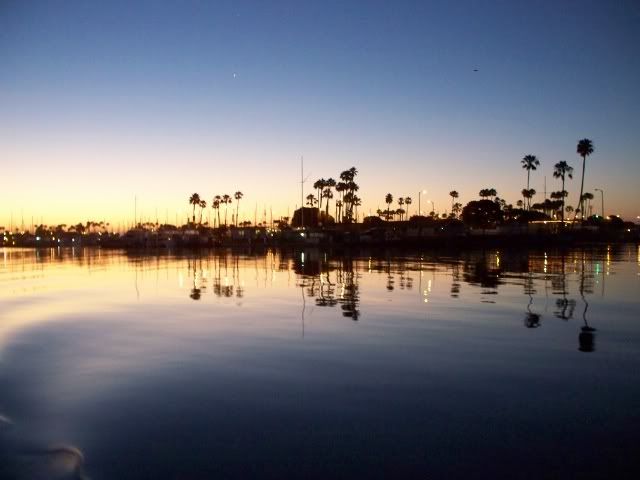 Lal set a course for Izor?s Reef. Given the grease calm seas we were able to cruise out at 28 MPH. The ocean was virtually empty, not a sole in sight. Water temps were depressing, 60 degrees in the harbor and 59.6 at Izor?s Reef. We fished the upper end for a slow pick on the Bass. I caught and released a couple of frisky Calico Bass while Lal released a huge Rubber lipped Perch and a small Sand Bass on our first drift.
The current and drift kept changing as we worked our way through a number of pin on the reef. I caught this 3+ pound Sand Bass on a ¾ oz. lead head and a 4? Red Flake plastic:
Not long after I was bit Lal gets slammed on a similar Plastic and this fish has the ?it factor?, taking drag and providing some serious head shakes. Up comes one big fat Sandy just over six pounds: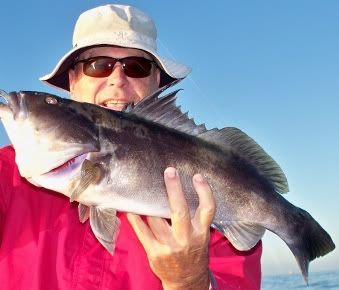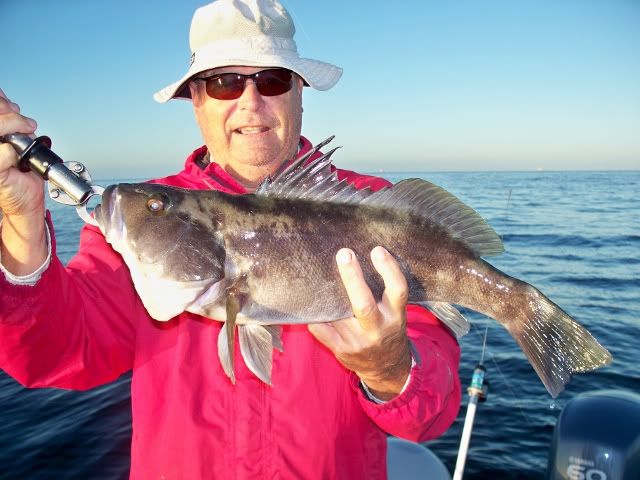 Lal moves us to some other points on the Reef and I hook a nice Sand Bass. This one is a little over 3 pounds: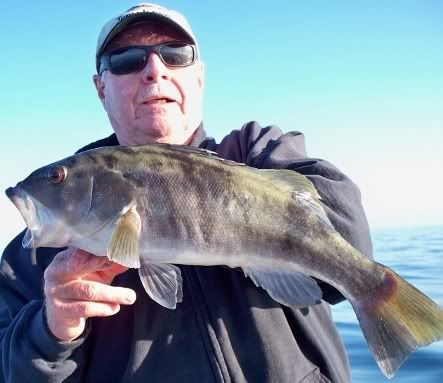 We continued to have a slow pick on the Bass. One more picture: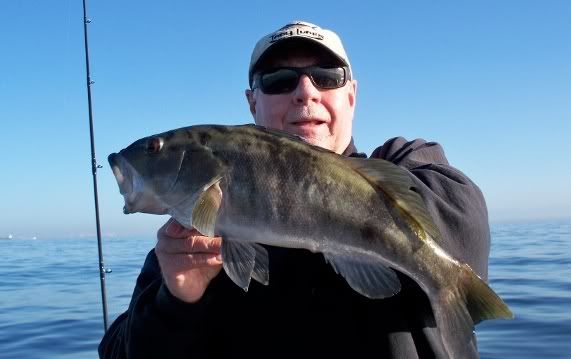 The water temp was now at 58.5 degrees, how could it drop while the sun is shining and the wind is calm? Very weird.
It was 9am, and after low tide, which was now slack and the bite became nonexistent. Off in the distance, near the upper end of the Shoe, the fleet was building. A few weeks ago Lal and I caught limits of Barracuda an I smoked up a batch of ten. After taking my smoked Cuda to work, and sharing them amongst my friends, I received favorable feedback on the taste. I myself was very pleased and love to enjoy smoked fish as an appetizer at break time at work. Lal being my most adamant critic, also gave a favorable comment on the smoked Barracuda, after stating that he could not believe any part of Barracuda could ever taste good?
So I requested another attempt at catching some Barracuda for more smoking, given my supply has now dwindled with the frequent requests for more. We approached the fleet and found birds diving in numerous areas. We slid up on some boils under the birds, and Lal got hammered on his plastic. He landed a nice 30 inch Barracuda. I was hammered on the iron no less than five times on my first cast with no solid hook ups. Another five casts and more short bites, and finally a solid hook up. This Barracuda was also 30?.
The Sport Boats were constantly on the move, as the Barracuda were on a mission, somewhere I do not know, yet they quickly vacated the area? We also moved around and caught several more Barracuda, with Lal catching the big one, and I released several at 28 and 27?. We brought home 4 keeper size Barracuda, which I hope justifies a batch of brine?
The fleet broke up, and we moved on to other spots, and drifted over some stones that Lal had marked on the Shoe. All the rocks had great meter readings, yet none produced any fish. The current was now ripping and the wind building. At high noon, the winds were up to 15 knots. We tried a few more spots, however, even with 2 oz. lead heads could hardly reach bottom. Headed in and on the trailer at 1pm.
A dozen Bass and half dozen Barracuda with grease calm weather in the morning equals a sweet day on the water! Amazingly the water temps rose to over 65 degrees by noon?
Thanks Lal, another great adventure on the Rubber Ducky!
Hook up! Cory