Fishing Wednesday 10-03-12, with Bill Fisher, on his 18? Trophy, ?Toad Hall?. I left work in San Bernardino at 3:30pm; arriving at Bill?s Trailer residence on a cliff overlooking the water, some 10 miles south of Rosarito at 6:15pm Tuesday evening.
Bill told me that dinner was all set as the next door neighbor had dropped off a Pizza. After chatting about the next day?s fishing possibilities, we watched the San Diego Padre Baseball game. It was lights out at a little after 9pm, with a wakeup call set for 5:30 am. Since I am up for work before 5am, it was unlikely I would be able to sleep in. Yep, I barely made it to 5am and I was up making coffee.
Just past grey light we arrived in Las Salinas, where Bill slips his boat. We exited the harbor around 6:45am, into fairly calm seas, with some small swells. We headed south, stopping not far out of the harbor to make. We collected three dozen mixed Spanish and Green Mackerel, most perfect hook size. Offshore was a heavy fog bank, maybe three miles away. Not having any radar, we elected to wait it out hoping we could run offshore to south of the 425 to look for Tuna and Tails.
Unfortunately the fog bank only moved closer to shore and quickly surrounded us. Bill set us up on some hard bottom spots close to the Kelp bed near shore, which resulted in excellent fishing for a huge variety of fish. Of course the Bocaccio were the most prominent, although we caught plenty of barely legal Lingcod, all released, Bank Perch, Johnny Bass, Sheephead, a few Reds, Sand Bass, Calico Bass and a Copper Rockfish. Surprisingly the only regular critters not being caught were Chocolate Rockfish, normally plentiful in this area? Most of the fish we caught in the shallows were released successfully, keeping only a few of the bigger models. The fish bit on plastics, Mega Baits, and Lucanus lures. It was fun fishing with light tackle.
Here is a picture of myself with both Sand and Calico Bass: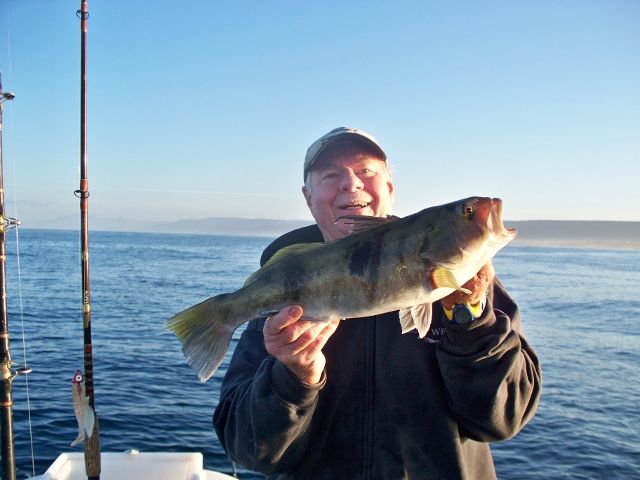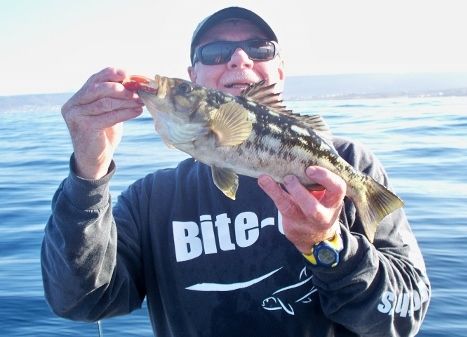 Bill was definitely king of the hill catching Bocaccio today; they simply would not stay off his hook. Although I certainly caught my share of these pesky fish as well. In addition getting Bill to let me take a picture of his fish he caught is a challenge, but here he is with the biggest caught Salmon Grouper:
[IMG]http://i1091.photobucket.com/albums/i394/tunaslam/Bill-Las%20Salin]
We wore out our welcome in the shallows and Bill headed offshore to fish some deeper areas. He stopped on some rugged terrain and we promptly began catching a slew of Lingcod. Most were in the 23 to 24 inch variety. I even caught a double on the Jax Jig and shrimp fly combo. I finally added a decent Red to our mix: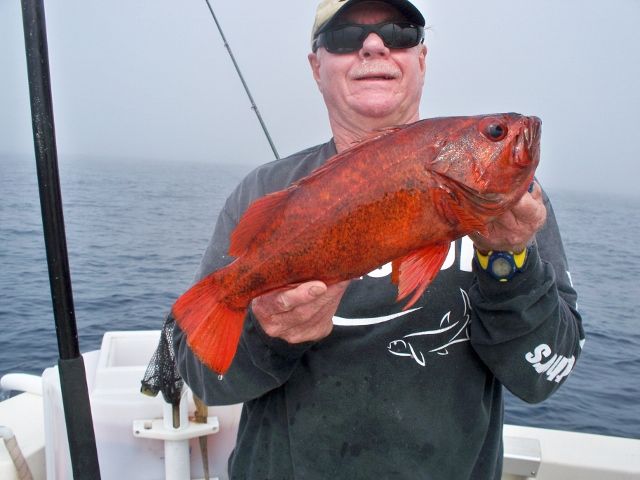 Bill set us back up on the high spot and when I hit bottom I got . I set the hook and the big fish took some drag, has to be a good size Lingcod? Numerous violent head shakes and a few more bouts of drag taking and up comes a 10 pound Lingcod which Bill quickly sticks with the gaff: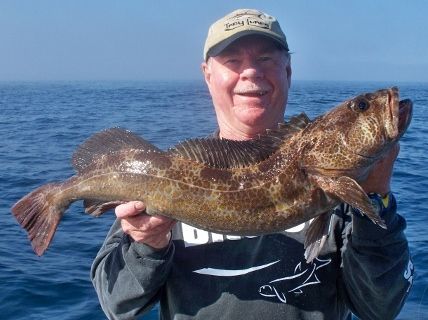 We made a few more moves and once again I get hammered when hitting bottom. Another round of drag pulling and feisty head shakes results in a bigger 12 pound Lingcod: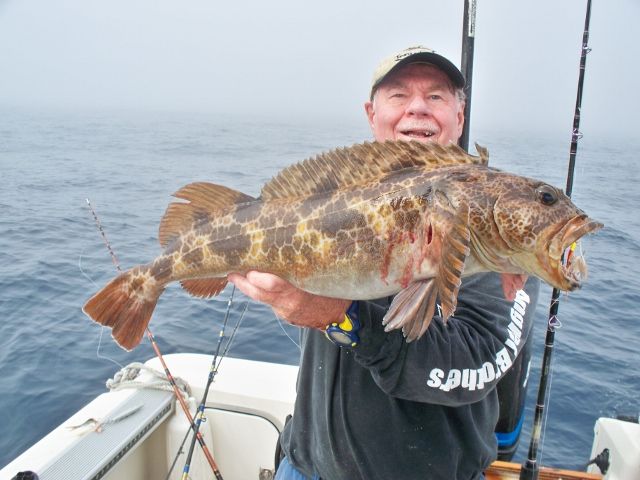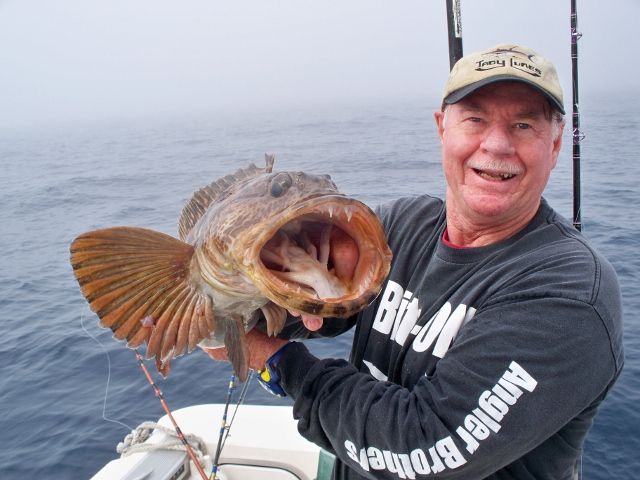 We continued to catch too many Bocaccios to count, and a few more Reds. Bill moved us closer to shore to f for Sand and Calico Bass. We caught a half dozen Sand Bass and perhaps four Calico Bass, most released. At 2:00 pm we called it a day.
The fog never lifted, however, it was a great day of fishing, and we caught a wide assortment of fish. They weren?t Tuna and Tails, however, it still beats working.
The day?s catch, a very nice assortment of fish tacos in waiting: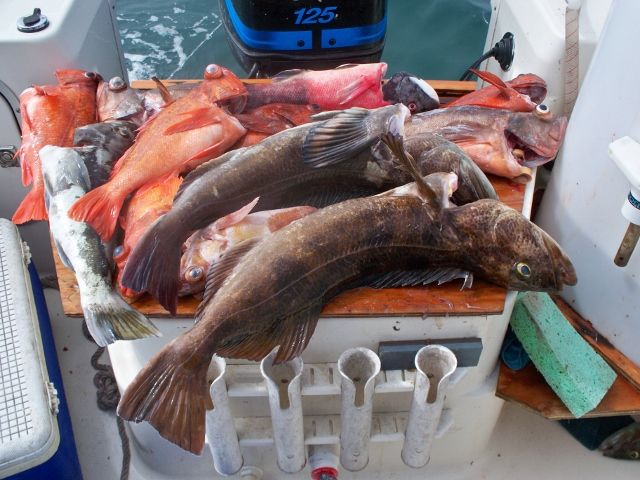 Left Bill?s for the long journey home to Diamond Bar at 4:30 pm. Otay Mesa was said to be a 30 minute wait at the border. Took me 27 minutes and the traffic home was kind. I pulled into my driveway at 8: pm.
Bill, we had another fantastic day of fishing, too cool. I had a great time, thanks so much for the invite, and fabulous hospitality. What a fun day on the big pond!
Hook up!
Cory