My buddy Ben Ouano asked me if I would try and post his report here since he was pressed for time and had to board a plane for New York last night to attend meetings this morning. I told him I'd take a shot at it.
I don't know why some of the pics at the end didn't come up butI hope this works as there here lots of pics here for your viewing pleasure and a few faces many of us will recognize.
ENJOY!!!
----------------------------------------
It?s the week after the annual Fred Hall Show and the boss decides that he wants to book a charter. Maybe for 2013 but certainly not this summer, that is until Captain Brian Sims of the Royal Star calls me and offers me a prime July date. Boss wants ultra-limited load and private charter with family and friends. Without hesitation, we book it and the 2-month preparation begins.
First things first - decide on a logo that best represents the boss and our objective. Well, Mark Lytle of Lytle Screenprinting hits it on the head with this winner and this becomes part of our commemorative t-shirt design. Thank you Mark.
What started out as the charter that wasn?t supposed to happen until next year, ended up being the perfect trifecta for this ultra limited load of 16 anglers. This was a reunion for many on board. First, it was a return for me personally to the boat that began my LR fishing career back in 1993 when Captain Tim Ekstrom was first assigned to the boat, before he owned it. It was also a chance to see my high school and college brothers after some 30+ years. There was a lot of time on this trip to cat up.
Boarding process was effortless due to the awesome redshirt's who assisted us.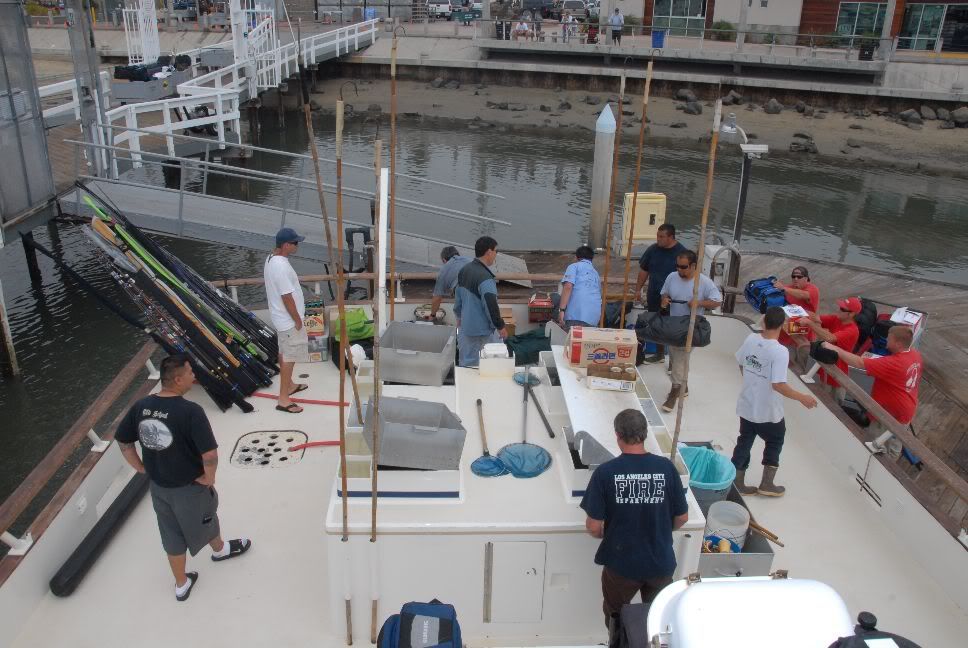 There was no shortage of rods as Phenix as premium sponsor supplied us with raffle prizes as well as use of their demo rods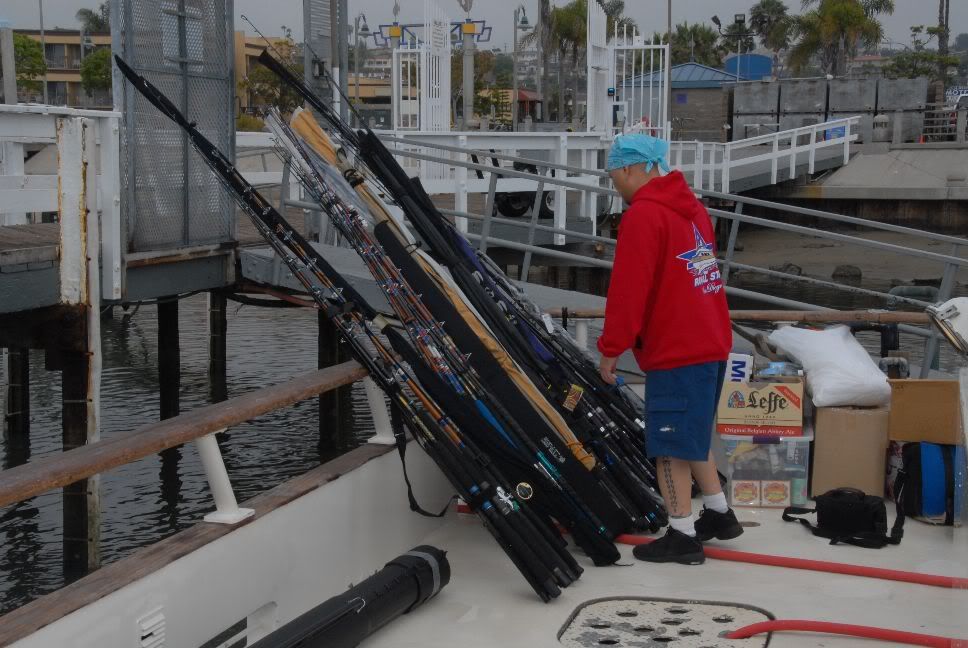 With the boat already baited and ready to go, we clear the point and sit down to an awesome lunch of hamachi, maguro and poke! This was the first of many culinary creations by Che Drew Rivera and Jeffrey Grant.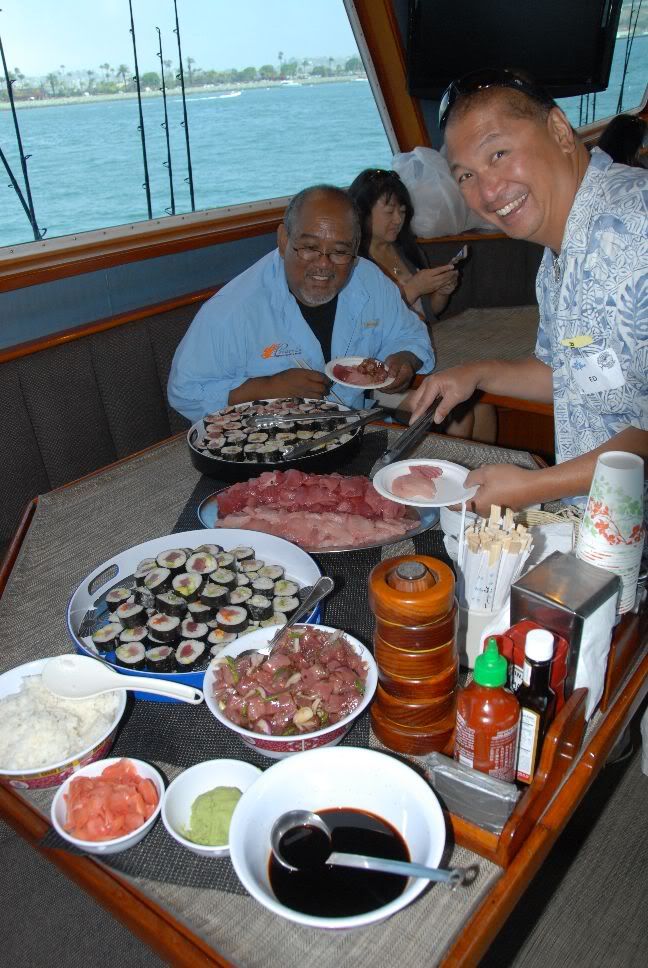 Tony Garza who is bringing back SoftSteel to the US, generously donated spools of 40 and 50# Softsteel mono to the passengers on the trip as well as a full canvas bag of other assorted tackle. The passengers all appreciated the swag.
[IMG]http://i651.photobucket.com/albums/uu237/f14bdriver/Royal%20Star%202012/images042.jpg
Besides the raffle rods, Phenix donated hats and t-shirts for the entire passengers and crew.
[IMG]http://i651.photobucket.com/albums/uu237/f14bdriver/Royal%20Star%20201]
Okuma donated hats and a new Cortez reel. Passengers were able to use the Makaira 8 and 10's as well as the Andros 5 on this trip.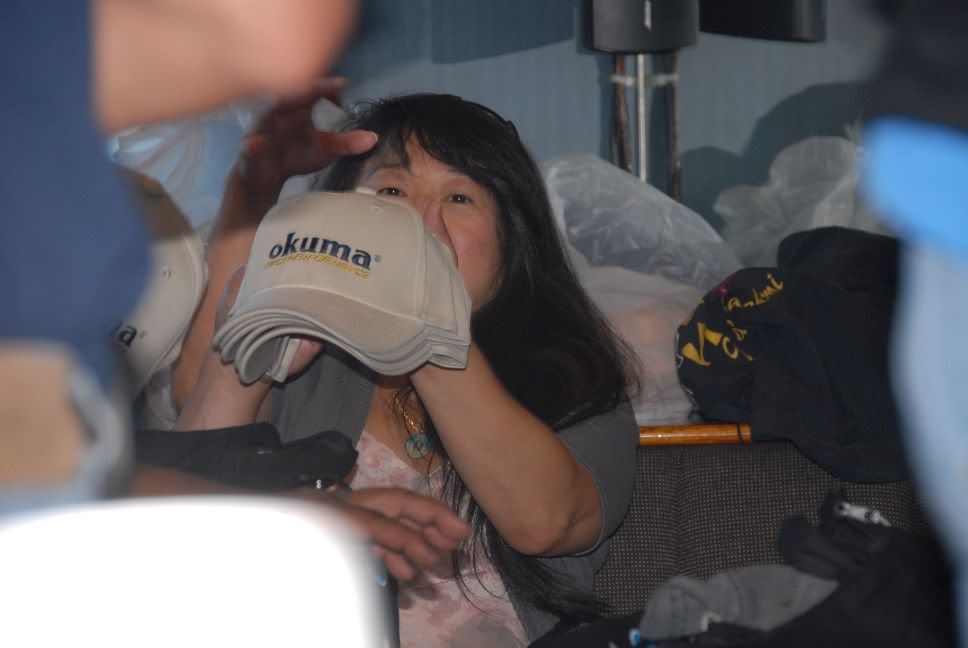 Matt Salas of Salas Jigs generously donated 6X and 6X jrs jigs for all our passengers.
Joey Simeon of Squidco generously donated a tackle pack of Candybar jigs, Stop Salt spray, hats, t-shirts and gift certificates for every passenger for our trip.
My better half and I relaxing for a brief momen before dinner.
Fresh Bluefin seared over rice and coconut curry sauce.....all made from scratch.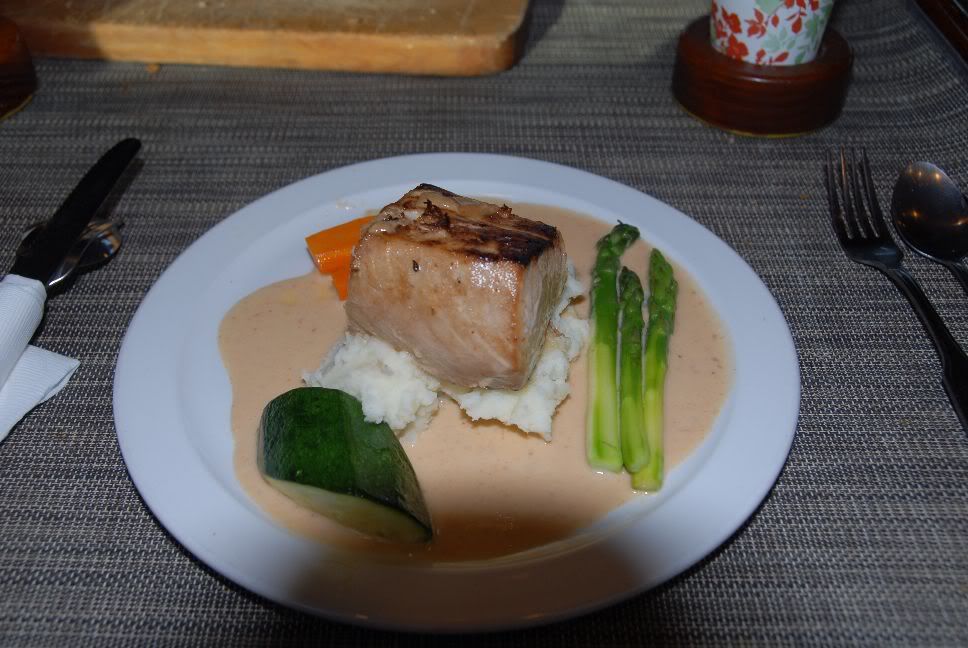 After a very relaxing and fulfilling dinner, my co-chartermaster Gilbert starts the anticipated prize raffles.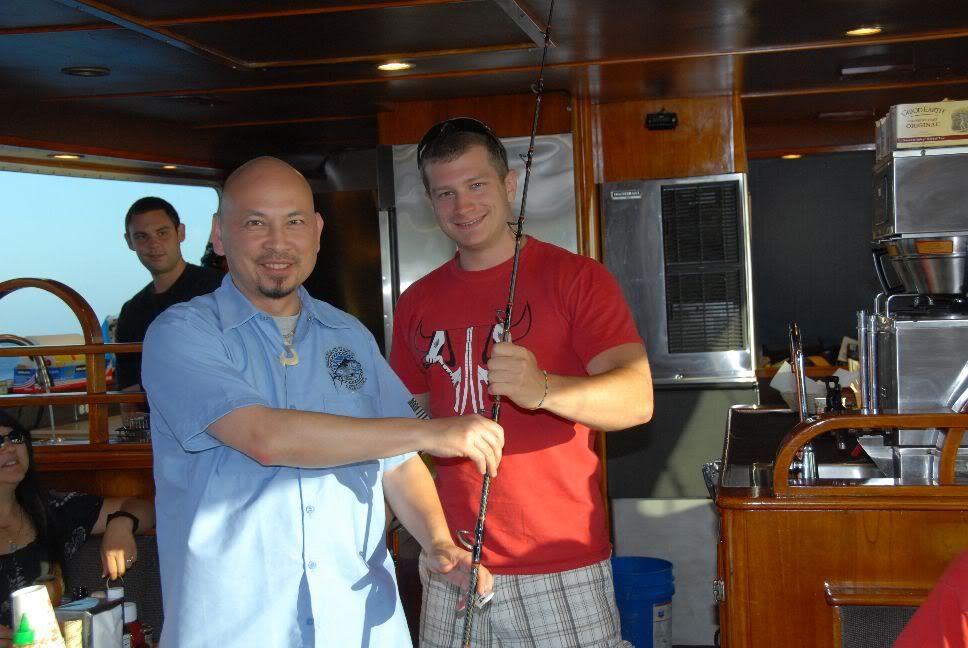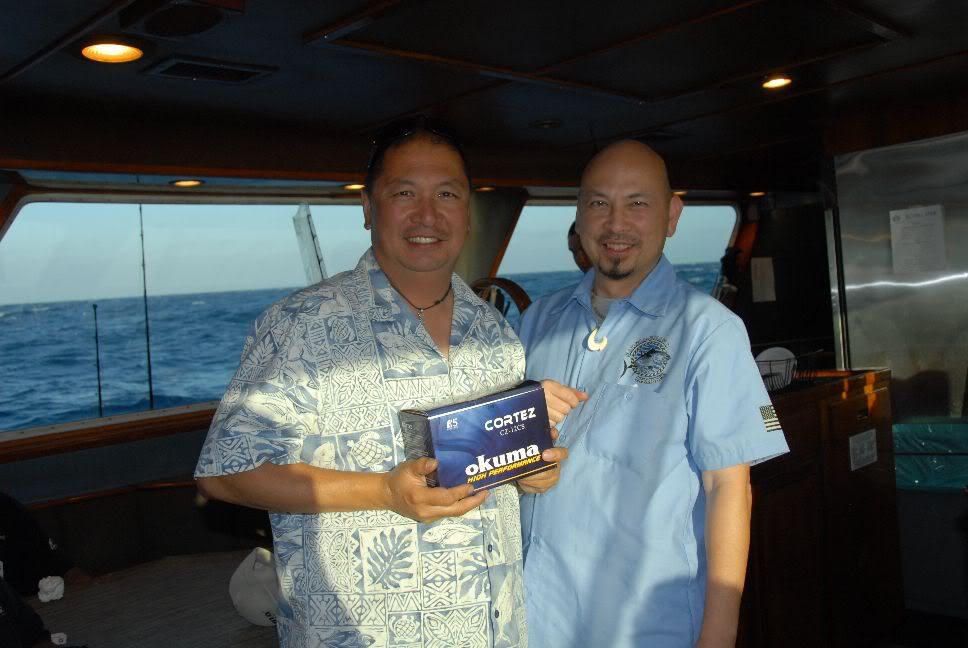 First day out, we started in sloppy seas looking for the elusive Bluefin and true to reputation; they sink out in an area that had typically produced the last trip.
[IMG]http://i651.photobucket.com/albums/uu237/f14bdriver/Royal%20Star%202012/images071.jpg
A few kelp paddies produce some nice yellows but the majority at rats, so we press onward south. and true to form, Chef?s Drew Rivera and Jeffrey Grant create masterpiece meals that not only satisfy our appetites but appease the senses.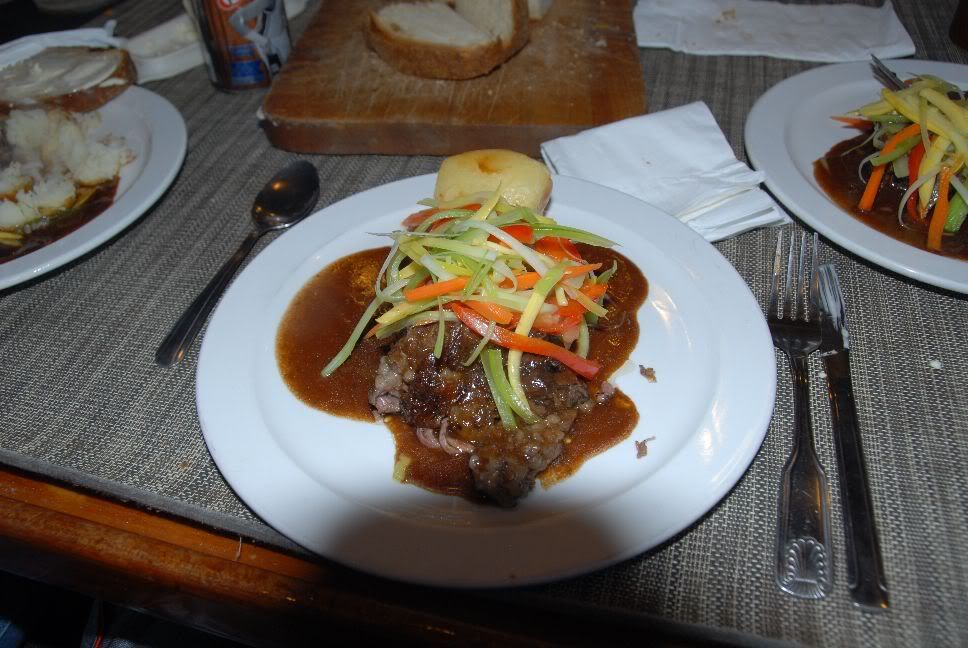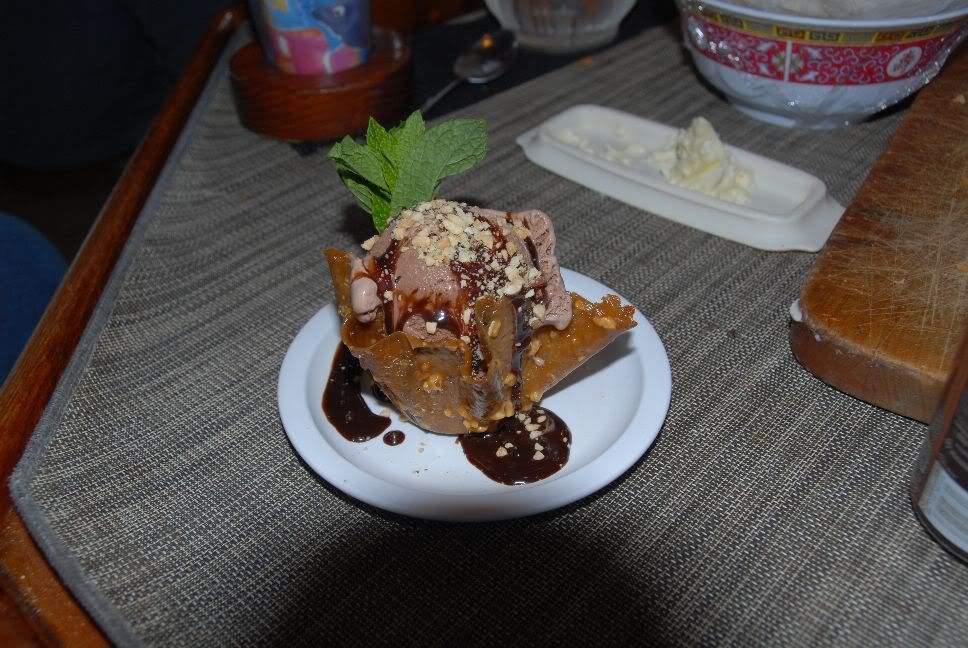 The sloppy weather forces us inside where we start the next morning on g yellowtail fishing. Surface iron, yoyo, dropper loop and bait provide the morning action on the yellows and it?s steady all morning.
Jeff Tseng of Phenix Rods with a nice Yellowtail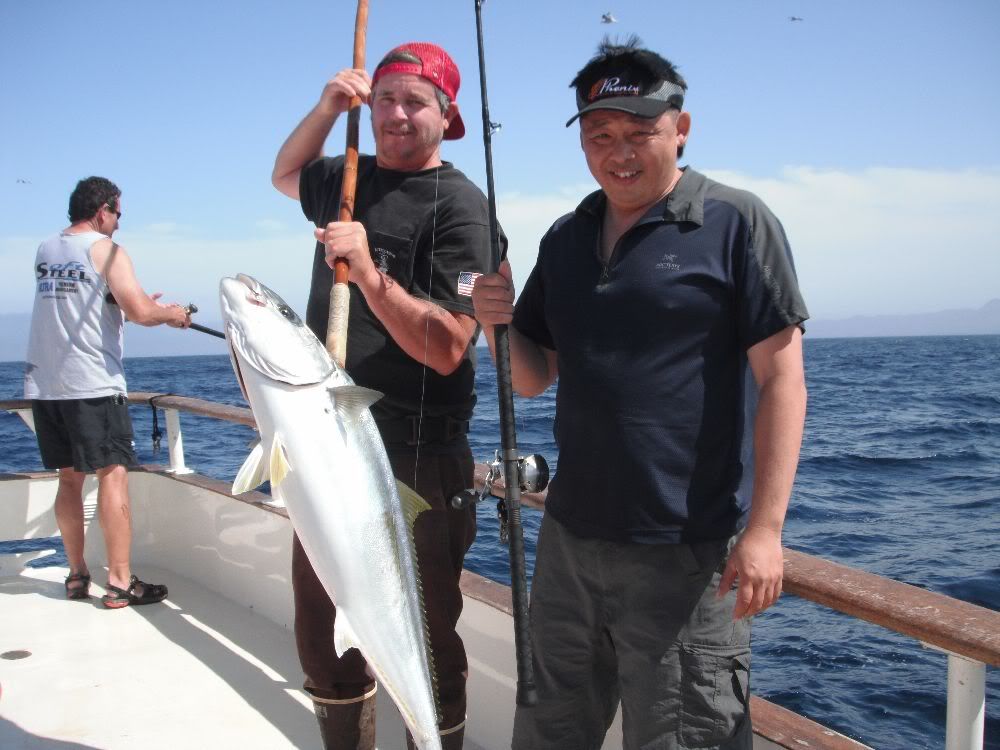 By noon, Captain Brian decides to make a move down south based on reports. We leave the yellows biting and make an overnight move . With fair winds and following seas, we arrive at the high spot at O dark thirty and begin a plunker bite on good yellows. Within 30 minutes it is full speed.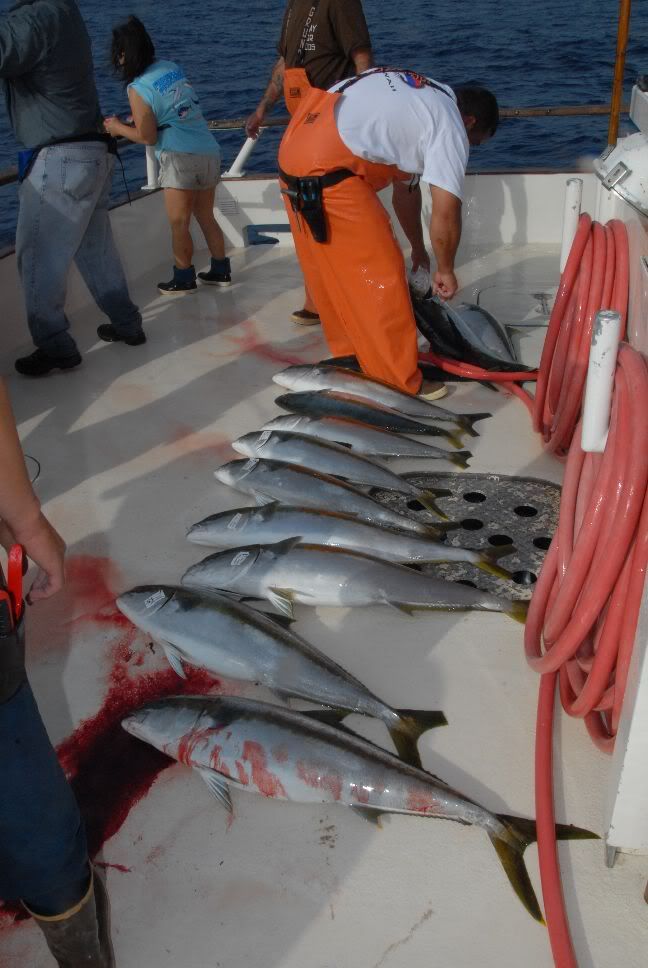 It didn't matter what you threw, jigs, bait, butterfly, they bit it and bit well. We load up and get our limits and turn it over to the crew. Watching the crew fish reminded me of the old days, pure guts, power and determination.
Crewman Blake Wassano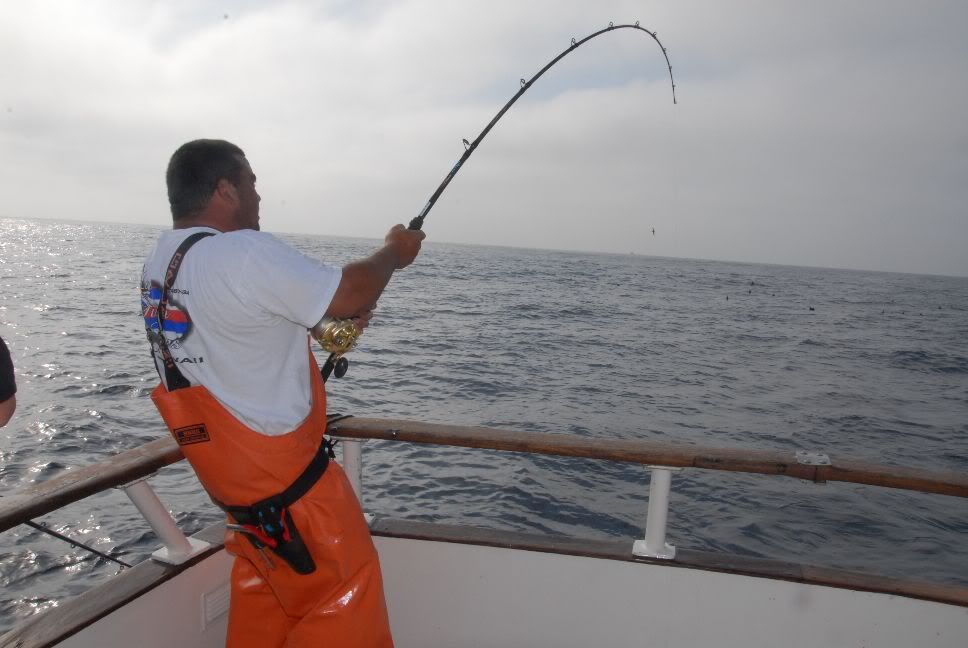 Blake and Chef Drew throwing the new Phenix Abyss. An old school Calstar T540 but half the weight and just as strong
[IMG]http://i651.photobucke]
Captain Brian Sims with his new Phenix Abyss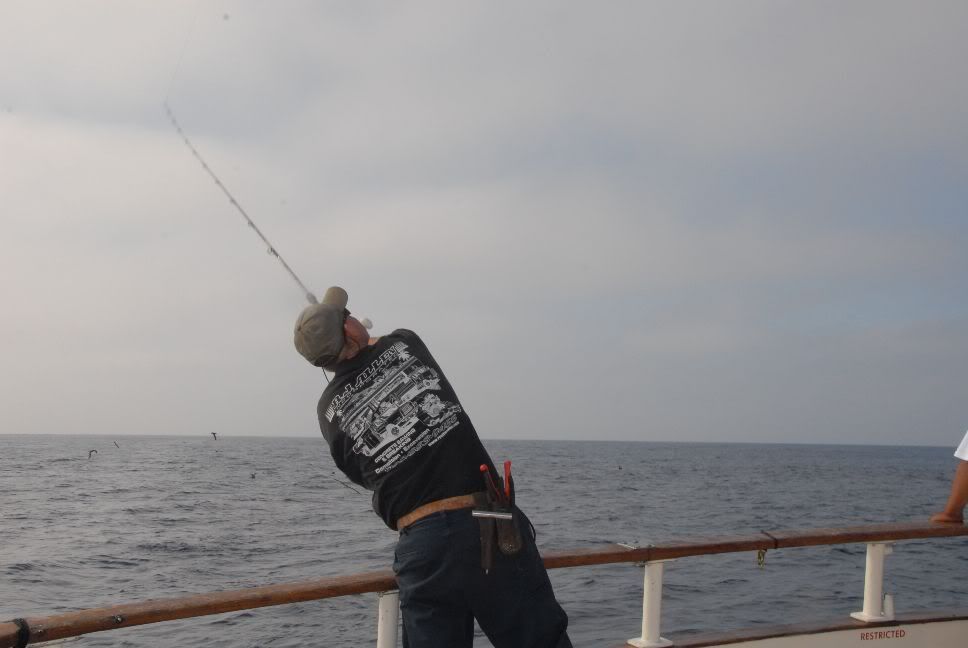 Paul and Blake
Paul the Poster Boy
Jill and I had our chance at deckahnd duties and had a blast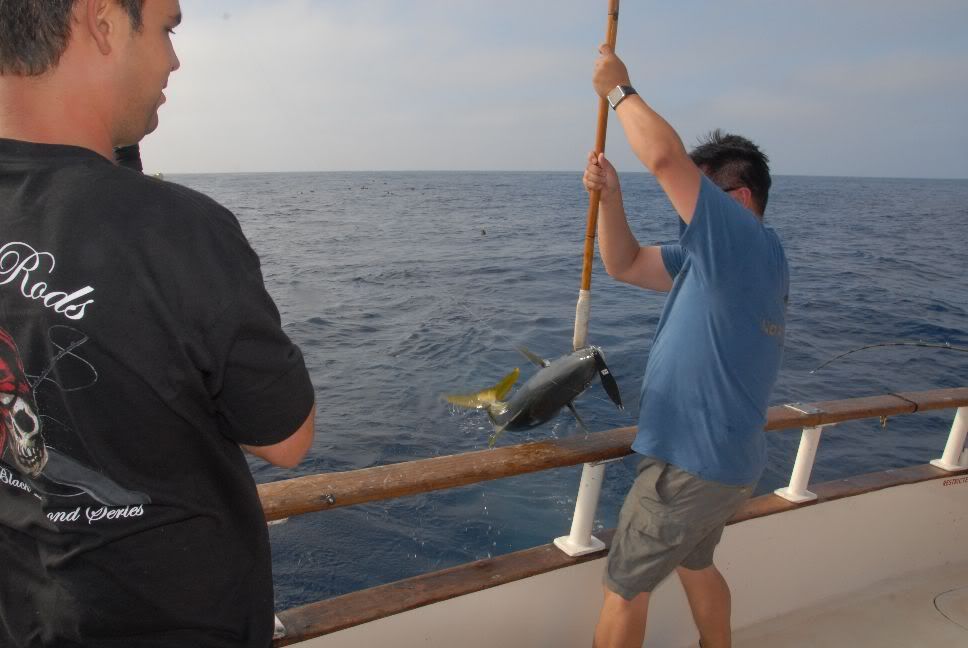 For the secon time in this trip, we left them biting AGAIN. These were all nice 20-30# YT. Captain Brian makes a move to another high spot 2 hours away and we retool our arsenal. Reports of YFT and anticipation soars.
We cannot reach the intended high spot because a huge school fo YFT 25-40# attack the boat. Even with the mayhem, the crew and passengers are a well conducted orchestra and we make two additional stops after each dry up.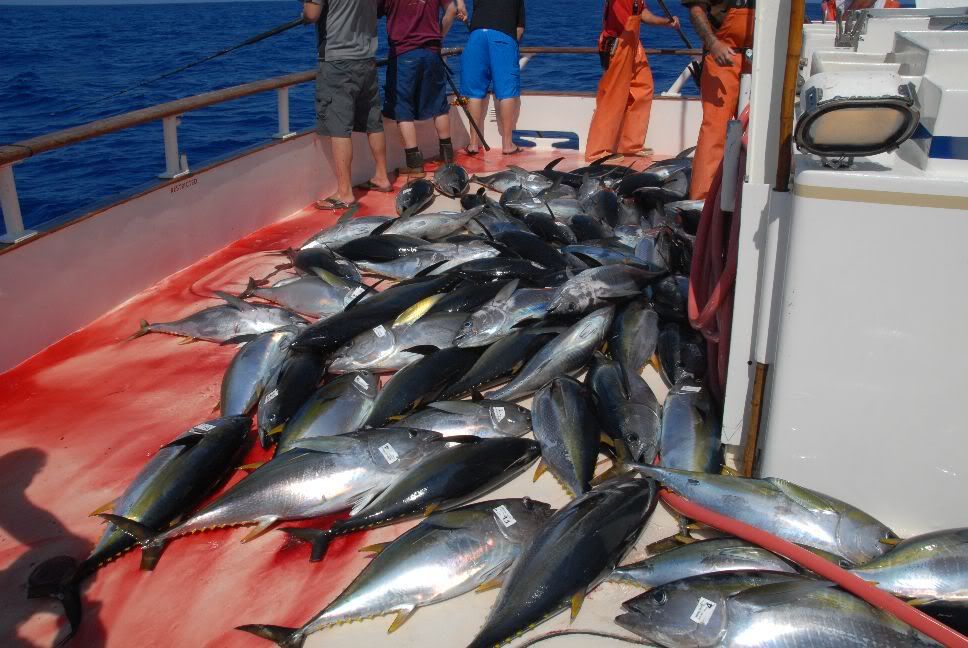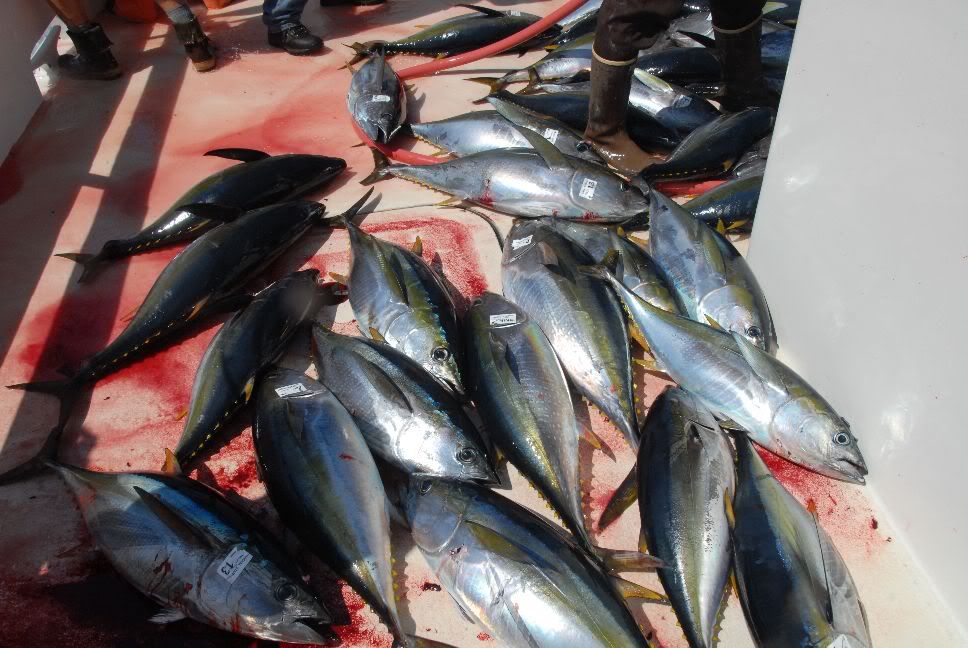 Water is crystal blue and 70 degrees. The YFT hang with us and with near limits, we start throwing poppers without hooks and watch them boil on our offerings.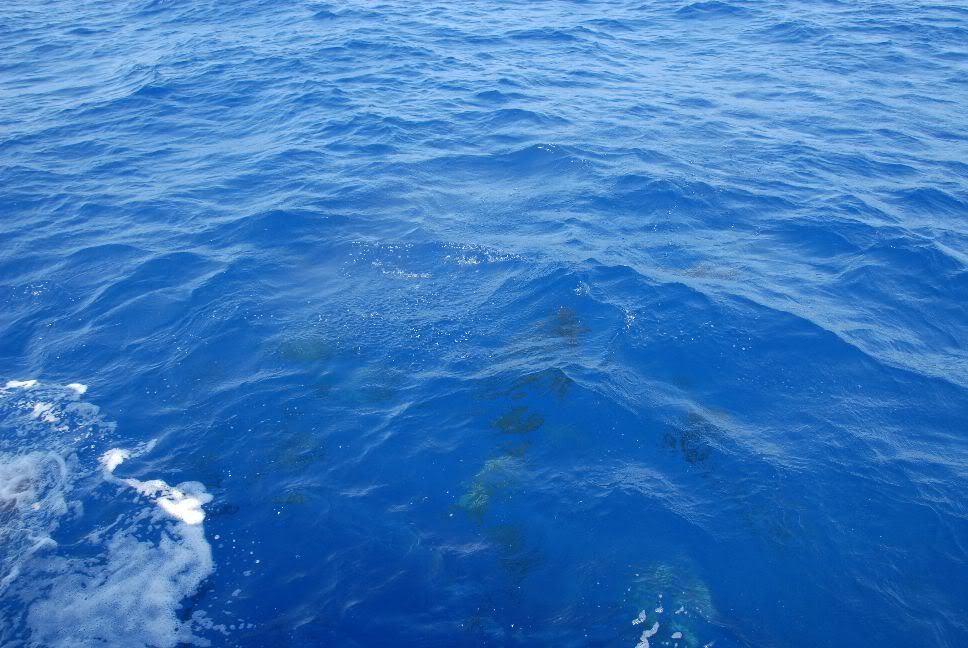 We have to drive away and once again, LEAVE THEM BITING. We love this broken record and Captain Brian announces we'll head up the line back to t inshore reefs to pick away at exotics and regenerate our strength. A full day of tails and tuna and lots of credit to Captain Brian and the entire deck crew for their outstanding work. A truly fine tuned team!
Dinnertime consists of Tri-tip steak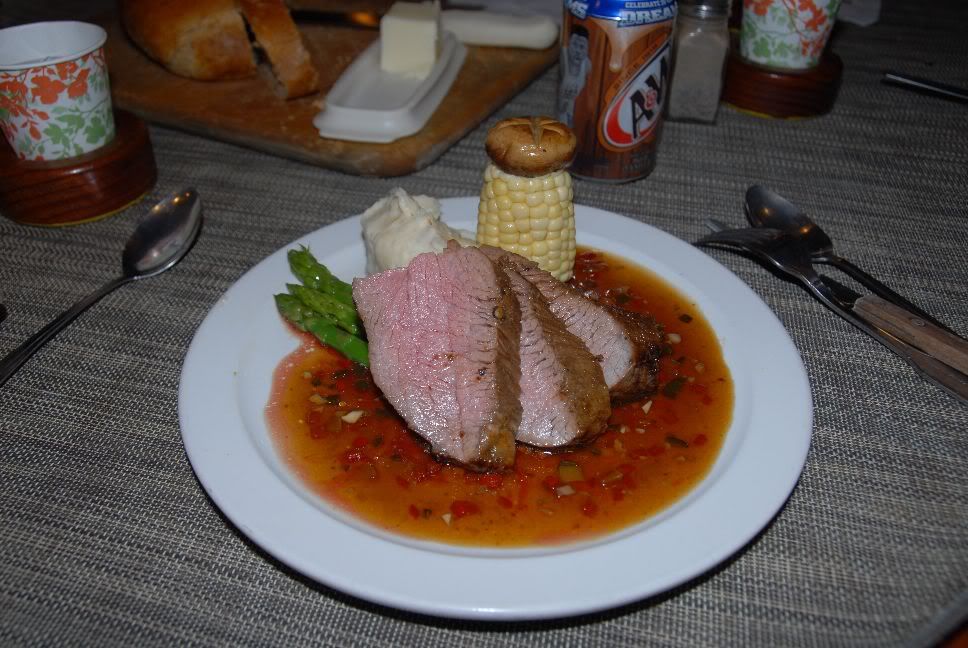 Followed by a delicious creme puff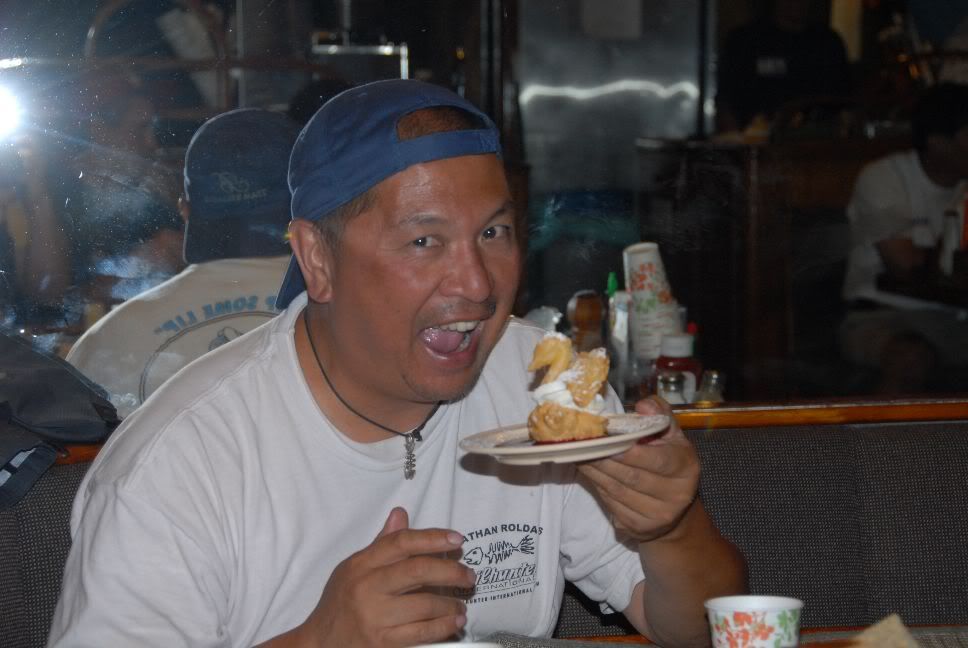 Next morning begins with a traditional Hawaiian breakfast of loco moco, a hamburger steak atop a bed of rice with 2 eggs and brown gravy. It is ono-licious.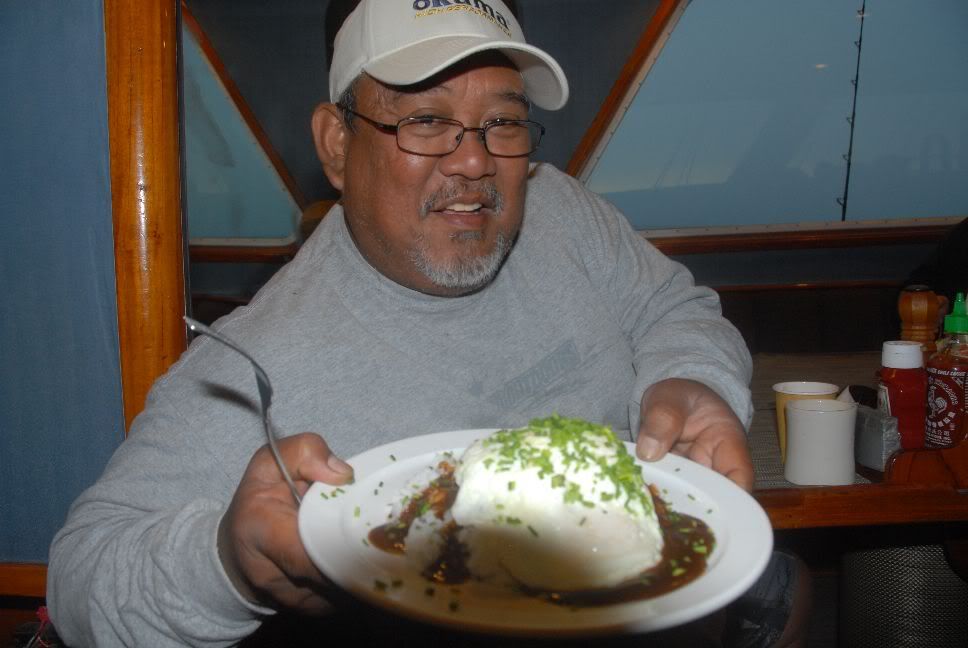 We scratch throughout the day for halibut and other inshore species, a nice respite from the previous da slaughter. It?s nice having an ultra limited load of anglers.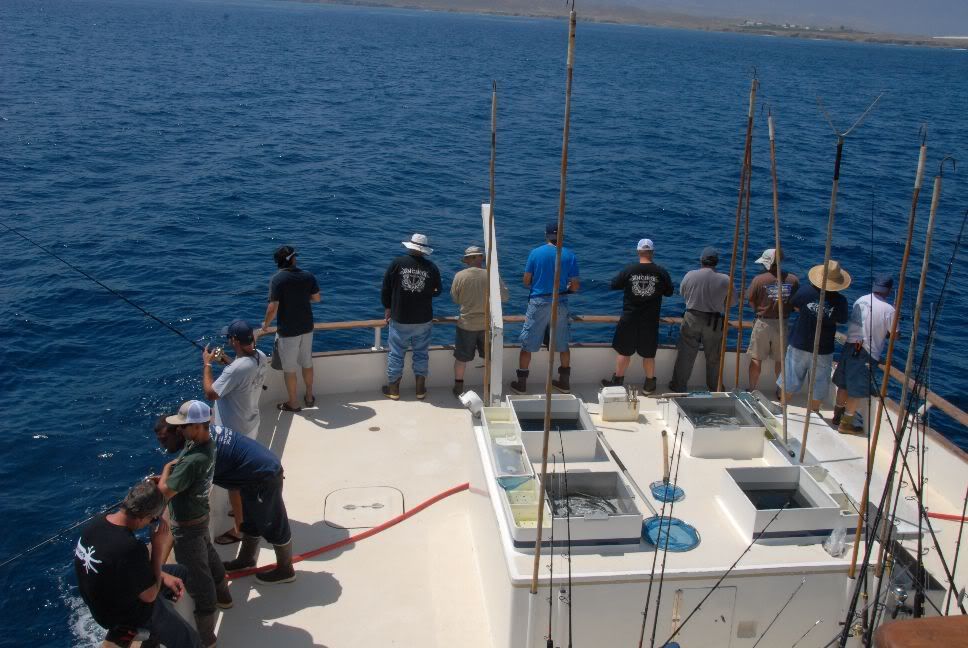 As evening descends, Captain Brian moves us to a high spots and we start seriously picking at 2-5# calicos.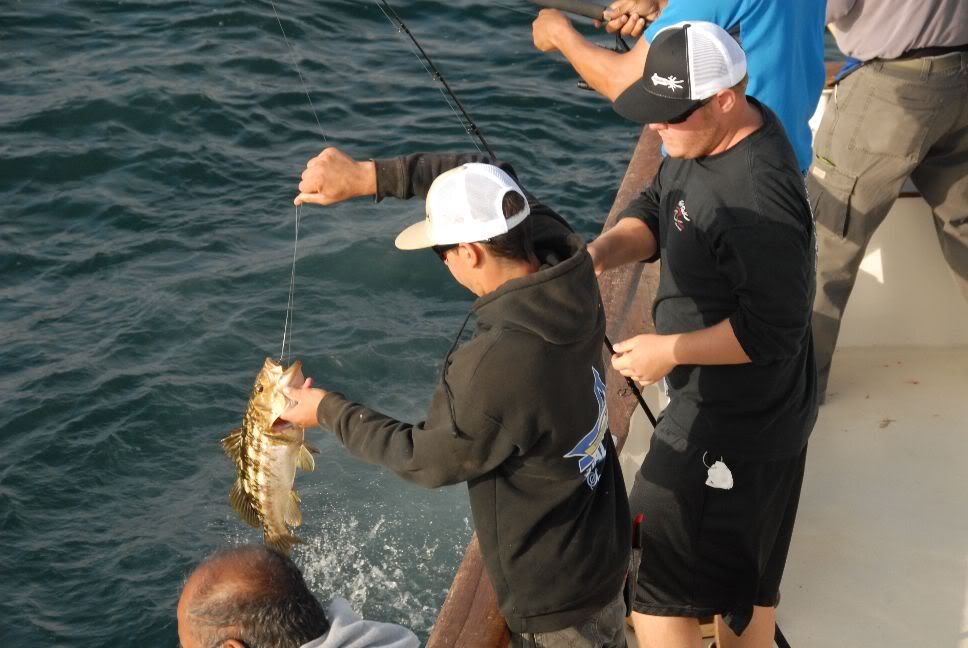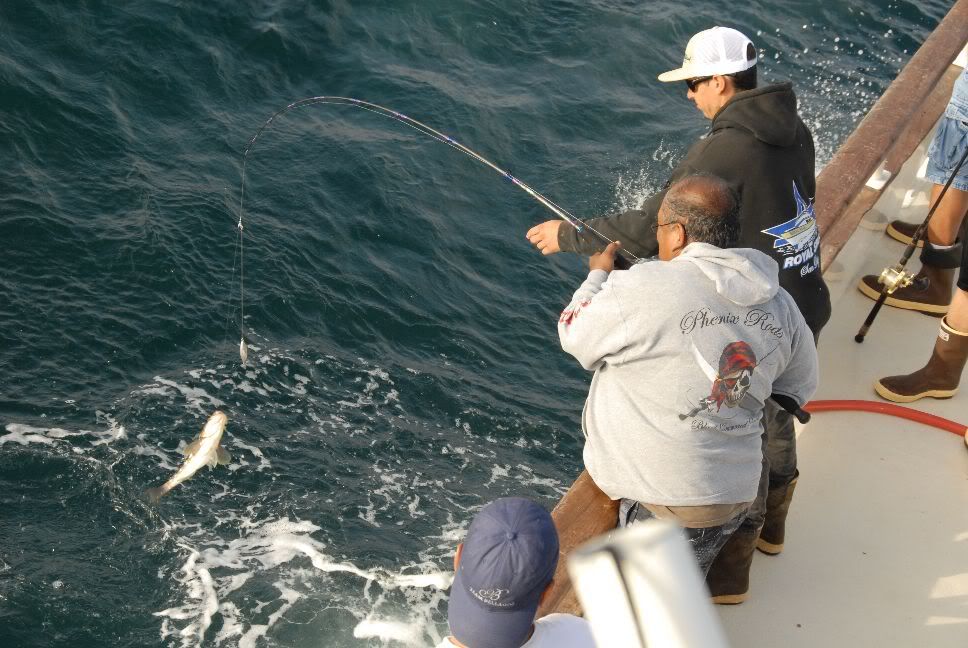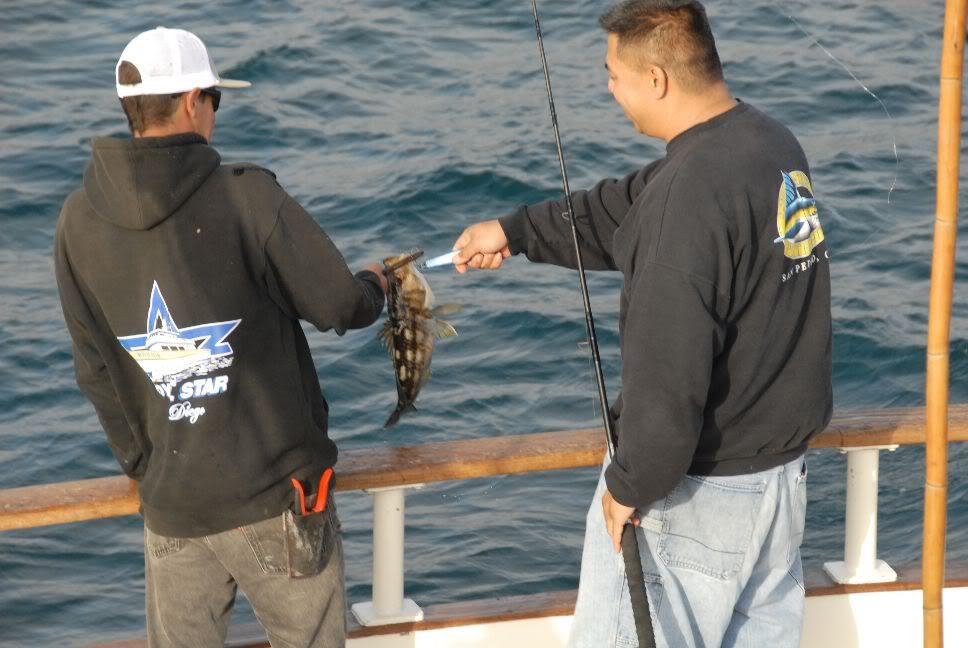 [IMG]http://i651.photobucket.com/albums/uu237/f14bdriver/Royal%20Star%202012/images005.jpg]
Even the crew gets in the fun
Like a switch light, the bite turns on full speed and I nail this 8# calico, my personal best
Jim "Akuhed" Racela, like many others on this trip, also lands his personal best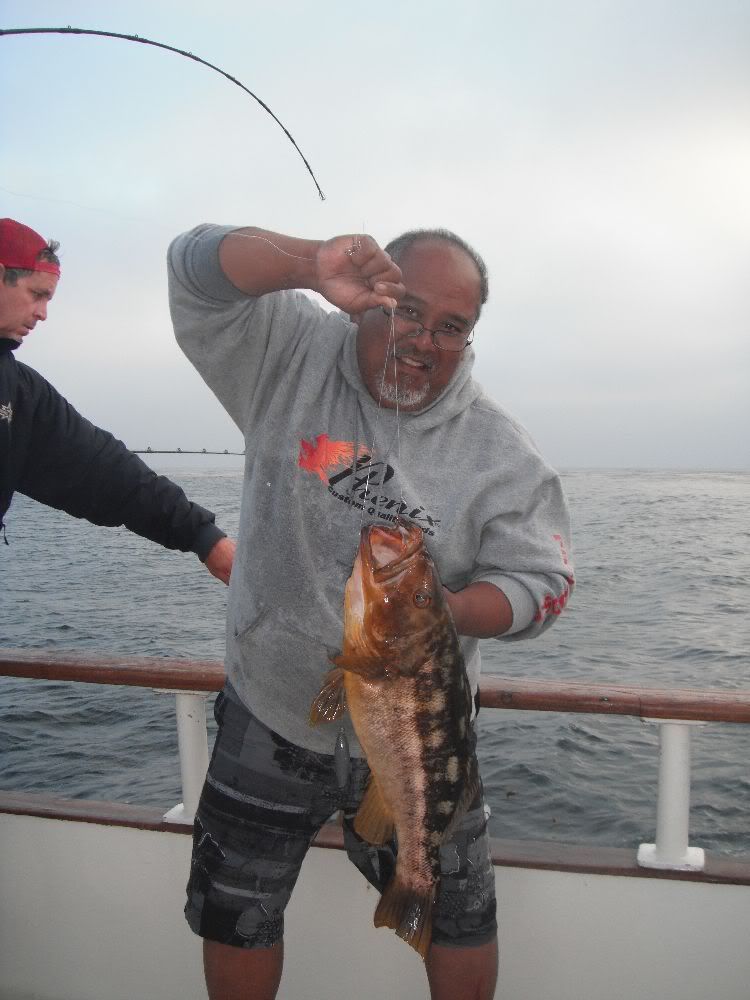 Captain Brian sits down with me and says reports of Bluefin are back up on the grounds and we have the time. I'm thinking, we have our YT and YFT, sprinkled with the calico funtime....what a great way to complete the trifecta. We are headed back out to the tuna grounds to get those elusive BFT. We rearm our arsenal once again and buckle down for the night ride back outside.
The BFT don't cooperate like the YFT we experienced earlier so we worked hard and get some quality pick bites.
Wendell wo his fish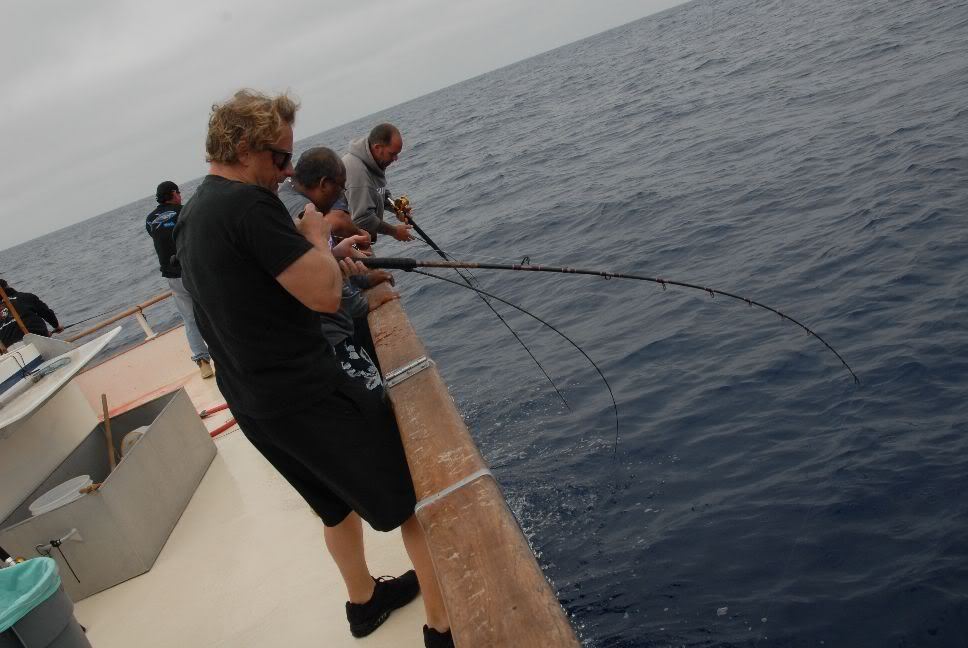 Mark Lytle (the professional) of Lytle Screenprinting (our sponsor) slugging out his BFT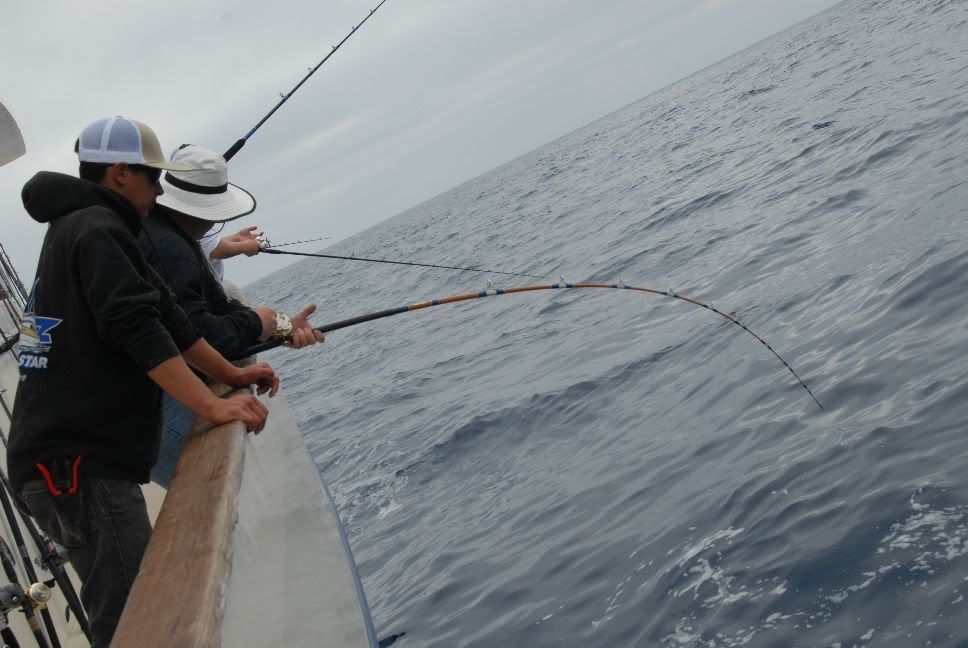 Jeff (Phenix Rods)
Big Bryan Wilson won his battle with his BFT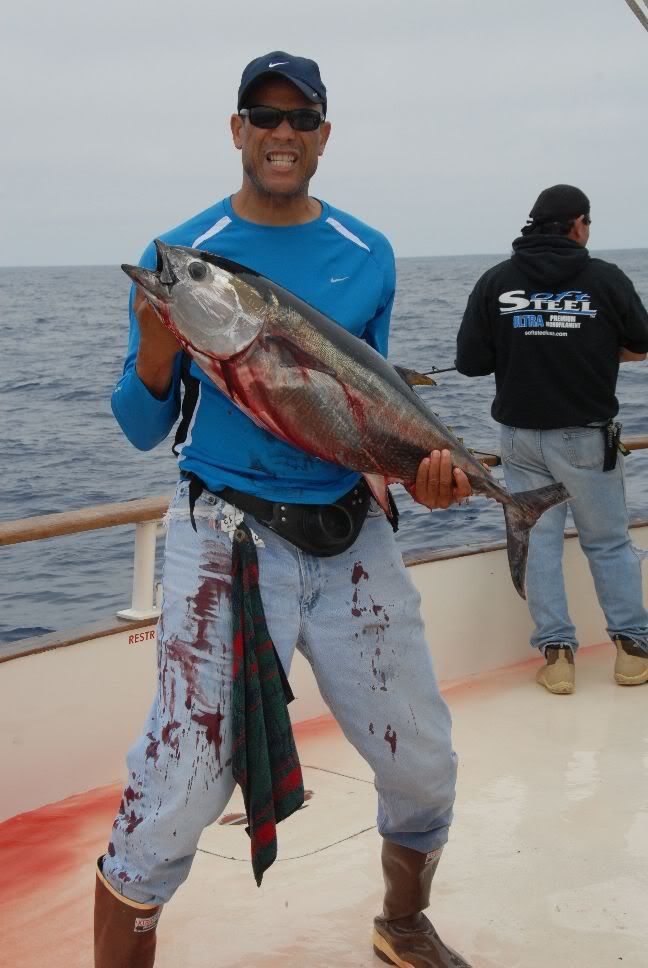 Jim Nomura finessed his BFT on a Okuma An 5 and 30#
Ed Ramolete showing his BFT who's the boss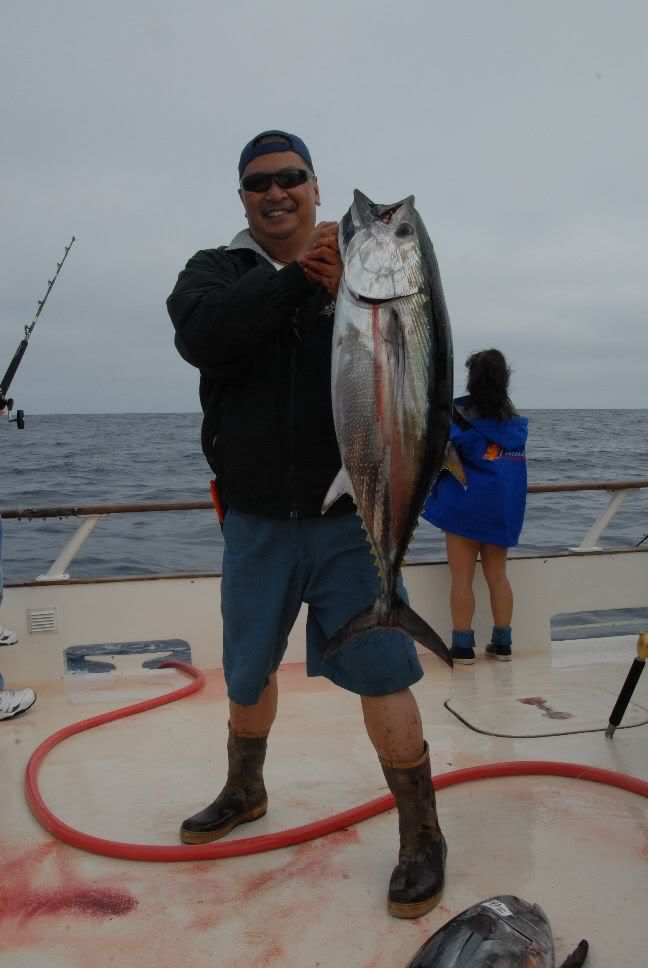 Tony Garza with a slug BFT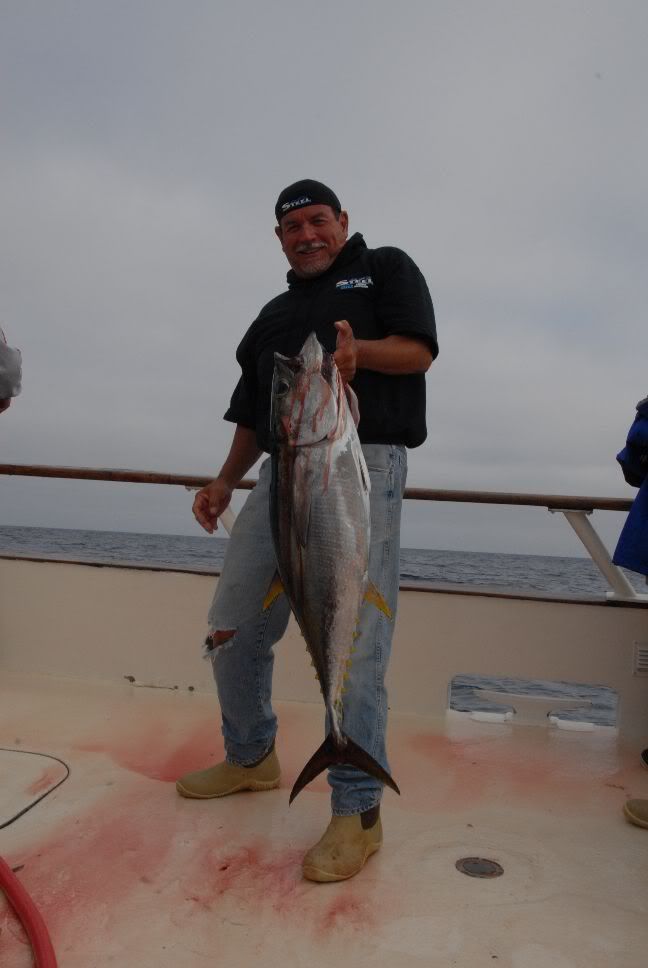 Nick (Hot Stick) Pandza our Squidco sponsor rep got into the action as well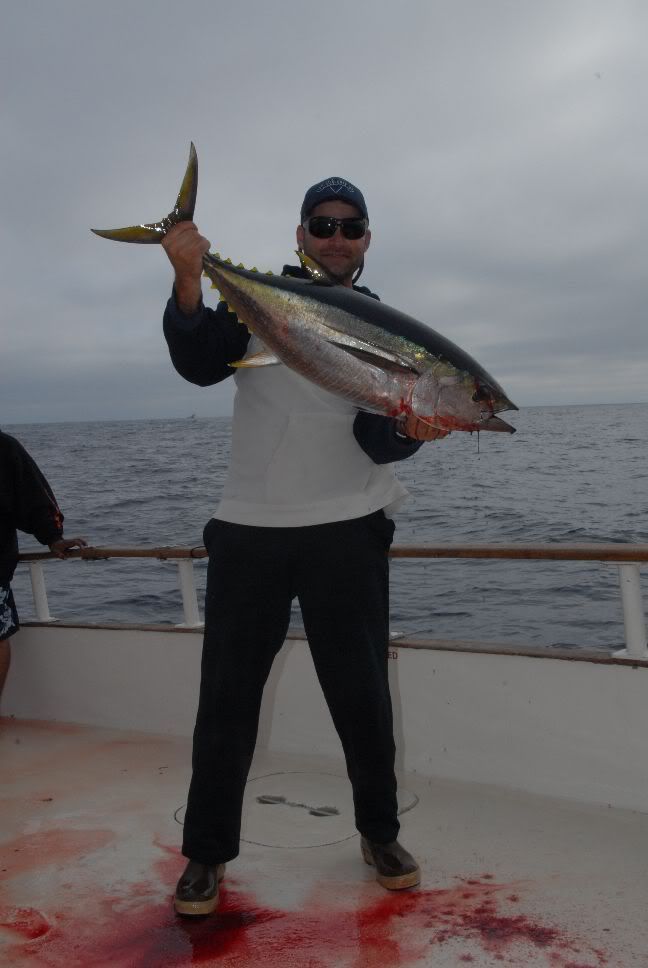 Akuhed wouldn't be denied as well
[IMG]http:]
The bite continued and developed into the afternoon well enough for Captain Brian to pull out the kite. YEAH! It didn't take long for the kite fish to get killed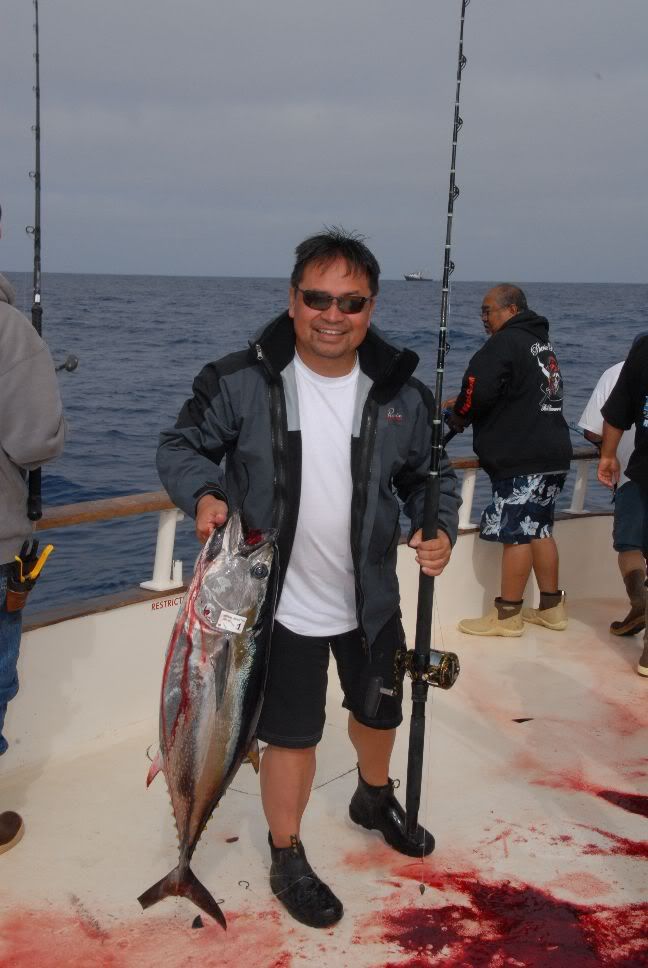 Co Chartermaster Gilbert
End Result
Even my wife, Jill had her turn at the kite
And fin it off faster than I did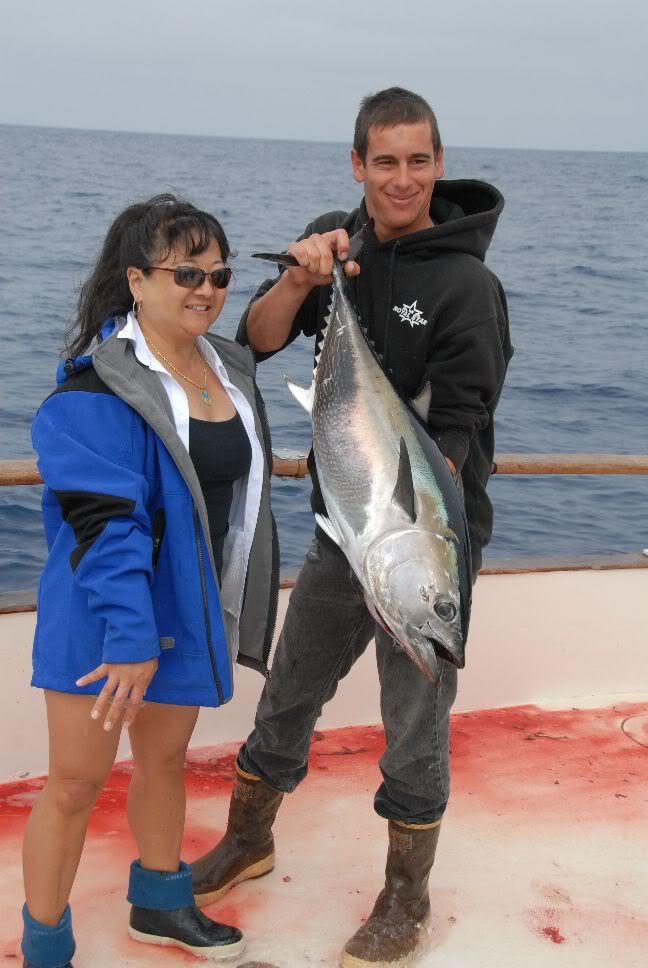 We always had a few going at any given time
[IMG}http://i651.photobucket.com/albums/uu237/f14bdriver/Royal%20Star%202012/images073.jpg[/IMG}
Thus the trifecta was complete. The script could not have been written any better. We fished the next day back in tight to the coast at Geronimo and called it a trip after a few hours. And just when it couldn't get any better, we spent another 15 minutes with orcas right next to the boat who swam and gave us a photo opportunity no one will ever forget.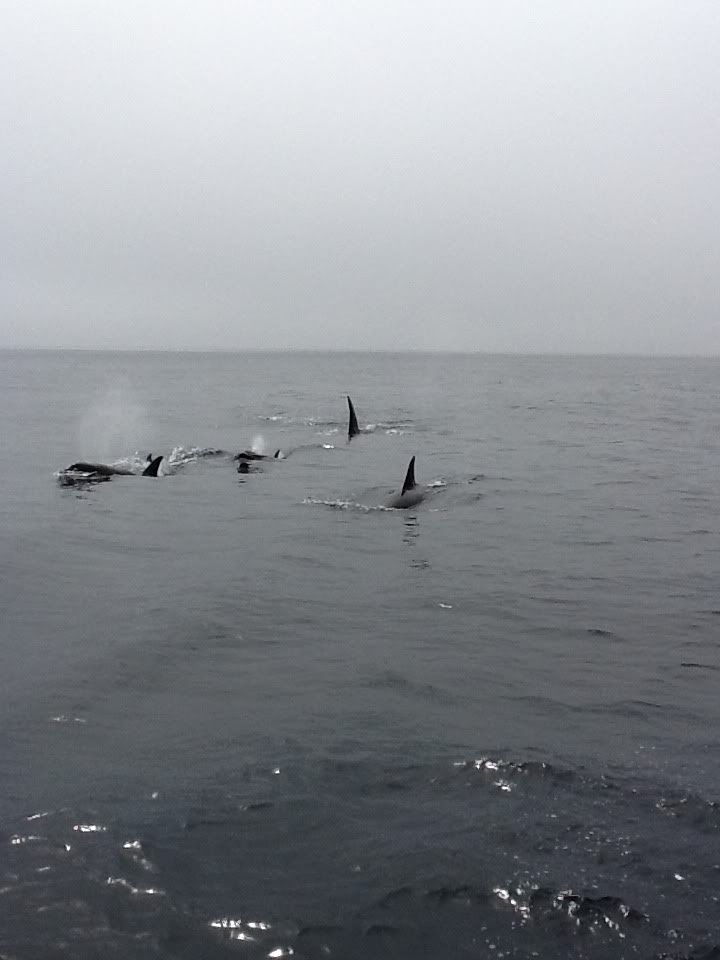 Bottom line, IT'S KARMA BABY!
Captain Brian back in the boat one week later at 0600, We offloaded and drove to Fisherman's Processing to await our catch and reminisce about the memories of the week. At 0830, my fish processing order was complete. An astounding 1300# of whole fish offloaded, processed, and bagged in 2.5 hours. We were on our way home by 0900. Thank you Fisherman's Processings..now THAT'S SERVICE.
I would like to thank our sponsors and acknowledge their wonderful donations
PHENIX RODS: Rods for Raffle as well as demo rods for use by the crew and passengers during the entire trip. The Black Diamond, Black Diamond Hybrids and new Abyss Rods were absolutely the best!
OKUMA REELS: Cortez Reel, Hats, Stickers and use of the Makaira 8 and 10's as well as the Andros 5. These lightweight reels were the fish killers of our trip.
SOFTSTEEL USA: 40-50# monofilament for ALL passengers on our trip. Thank you Tony Garza for taking the time to instruct our newbie fishermen on tackle, knots and for the hand-offs.
SALAS JIGS: 6X and 6X JR's were the Yellowtail killers for our trip. Thank you Matt Salas for your most generous donations.
SQUIDCO: Complete tackle pack for every angler including Candybar Jigs, Stop Salt spray, Megabaits and Gift Certificates. Thank you Joey Simeon for your most generous donation..........oh and thanks for sending Nick Pandza as your rep. He provided many a laughs for the group.
LYTLE SCREENPRINTING: Thank you Mark and Matt Lytle for generously providing passengers and crew with our commemorative t-shirt and long-sleeve t-shirt and embroidery.
FISHERMAN'S PROCESSING: Many thanks to Sean Sebring and Rosie Flowers for their gift certificates and wonderful headache free processing experience for our anglers.
CAL'S 2-SPEED: Many thanks to Cal and Eric Sheets for their gift certificates for ALL our passengers.
ROYAL STAR: Thank you Tracy Touissaint, Captain Brian Sims, Sean, Steve, Blake, Paul, Chefs Drew and Jeff for an awesome experience and for working with us to create this memorable event for our family and friends charter.
This truly was a perfect Trifecta!