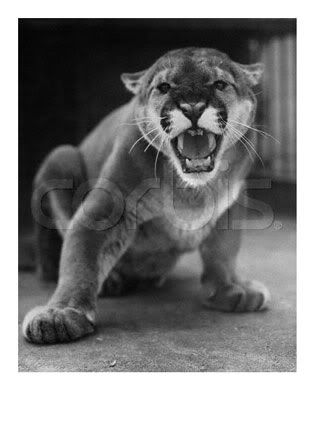 The good news is they don't attack BIG boys as much. Keep eating

List of Mountain Lion Attacks On People in California
June 19 1890 A 7-year-old boy was killed by two lions while playing among oak trees some distance from his home in Quartz Valley, Siskiyou County.
July 5 1909 A rabid lion injured a woman and child in Morgan Hill, Santa Clara County. Both died of rabies.
March 1986 A lion attacked a 5-year-old girl, Small, in Caspers Regional Park, Orange County, resulting in a $2 million court judgment against Orange County. Laura remains blind in one eye and partially paralyzed.
October A 6-year-old boy, Justin Mellon, received minor injuries resulting from a lion attack.
12 March 1992 A 9-year-old boy, Darron Arroyo, was attacked by a cougar as he was hiking on a trail with his two brothers in Gaviota State Park, Santa Barbara County. His father, Steven Arroyo, about a hundred yards behind the boys, heard the screams and saw the lion dragging Darron. Steven rushed toward the cougar, picked up a rock, threw it and struck the lion between the eyes. The lion dropped the boy and retreated. Darron sustained bites to the face and head and scratches to the chest
August 1993 A 6-year-old boy, Devin Foote, was attacked in the Manzano River area of the Los Padres National Forest, Santa Barbara County. This attack is not recognized by the California Department of Fish and Game because injuries were not verified by a physician, nor was the attack site investigated by an agency
September A young cougar bit a 10-year-old girl camping with her family at Paso Picacho Campground in Cuyamaca Rancho State Park. The girl was slightly injured. The mountain lion believed to have attacked the girl was tracked down and killed.
23 April 1994 (Attack #8, death #4) Barbara Schoener, 40, a friend of my sister and a long-distance runner in excellent physical shape, was killed by an 80-pound female mountain lion in Northern California on the American River Canyon trail in the Auburn State Recreation Area. No one observed the attack, and hence there are conflicting hypotheses about what occurred.
Barbara's husband Pete Schoener says that the lion was probably hidden on a ledge above the trail and pounced on Barbara as she passed underneath the lion. The lion knocked her down a slope and she was badly wounded, but she fought the animal with her arms before she was killed. Then the lion dragged her farther before eating most of her body.
The accounts in the paper said that investigators theorize that the lion surprised her by sneaking within 20' behind her on the tight trail and then ambushing Schoener, knocking her 30' down an 80° slope. Indications are she already was badly wounded but briefly fought the animal there before the lion finished the kill.
The trail is part of the Western States 100-Mile Endurance Run trail. Barbara was the first person in California in the 20th Century to die from a mountain lion attack.
The mountain lion may have been protecting its one-month-old cub by "defending" its territory against intruders, or may have "recognized" Barbara as prey because she was "running away" from the lion.
August 16 50-year-old Troy Winslow and his wife Robin, along with 48-year-old Kathleen Strehl, were camping in the yard of a rustic cabin near the isolated hamlet of Dos Rios in Mendocino County, when a fight broke out between their dog and a 2-year-old, 60-pound rabid female mountain lion at 4:30 a.m. The lion retreated under the cabin after they threw rocks at it. Near daybreak, the cougar attacked Kathleen, giving her four puncture wounds in the arm and knocking her to the ground. The others jumped on the cat and Robin stabbed it with a 12-inch kitchen bread knife. The cat bit off Winslow's thumb during the melee when the man grabbed the animal near its mouth
December 10 Iris M. Kenna, a 5-foot-4 and no more than 115 pounds, 56-year-old woman in excellent physical condition, was killed near Cuyamaca Peak at Cuyamaca Rancho State Park while hiking to Cuyamaca Peak alone in the early morning.
March 20 1995 Scott Fike, a 27-year-old cyclist, was bitten and cut by a cougar near Mount Lowe in the Angeles National Forest, on 20 March 1995, and fought the cougar off with rocks. The cougar was then tracked down and killed.
January 8 2004 (Attacks #12 and 13; death #6) 35-year-old Mark Jeffrey Reynolds, an amateur mountain bike racer, was reported as being killed by a mountain lion sometime after 1:25 p.m. at Whiting Ranch Wilderness Park in southern Orange County. His bicycle was later found with the chain unbroken, but off the sprockets. Jim Amormino, a spokesman for the Orange County Sheriff's Department, speculated that Mark was attacked as he was fixing his bike.
However, the autopsy results apparently show no damage to his neck at all, or any damage indicative of an actual attack that caused his death.
Later the same day, Anne Hjelle, 30, of Santa Ana, a former Marine who works as a fitness instructor, was jumped by the same mountain lion. Anne was attacked a short distance down the trail from Mark's body, which was not visible to her, while she was riding her mountain bicycle. The lion jumped her from a slight rise (~4 feet) on the right hand side of the trail, from under some high brush. The lion quickly had Anne's face in its mouth, despite the presence of Anne's helmet. Her riding companion, Debi Nicholls, was about 30 feet behind Anne and witnessed the attack. Debi threw her bike at the mountain lion, to no avail, then grabbed Anne's legs and screamed as the lion dragged both of them 30 feet down the slope into the brush. The lion kept attacking Anne, alternating between her helmet, face and neck. The screams brought Nils Magnuson, 33, of Long Beach, and Mike Castellano to the scene, who called 911 and scared off the mountain lion by throwing rocks at it.
June 26 27-year-old Shannon Parker of Santa Monica, California, was attacked by a 2-year-old male cougar at about 6:15 p.m. near the Tulare County mountain community of Johnsondale, California, about 15 to 20 miles north of Kernville. Shannon lost her right eye and suffered injuries to her other eye and deep lacerations to her right thigh.
January 24 2007 Hiking in Prairie Creek Redwoods State Park sometime before 3:00 p.m. in Humbolt County 50 miles north of Eureka in Orick, California, 70-year-old Jim Hamm was attacked by a cougar, apparently as it crept up from behind. The Fortuna, California, man was accompanied by his 65-year-old wife Nell. Both were reported as under 5'6".
According to supervising Ranger Maury Morningstar, "The wife said she didn't see the lion until she heard her husband, and when she turned around, the lion was attacking her husband."
Nell Hamm said she first saw the lion when it had her husband's head in its jaws. The lion pounced on Jim Hamm near the end of a 10-mile hike. He was trailing his wife when the big cat attacked, pinning him face down on the trail. He didn't scream, Nell said. "It was a different, horrible plea for help, and I turned around, and by then the cat had wrestled Jim to the ground."
Nell Hamm did all the right things. She approached and screamed at the lion. Then she grabbed a 4-inch-wide log and began beating it on its back. "It wouldn't let go, no matter how hard I hit it," she said.
While Jim was trying to tear at the face of the cat, Nell says, "Jim was talking to me all through this, and he said, 'I've got a pen in my pocket. Get the pen and jab him in the eye.'" "So I got the pen and tried to put it in his eye, but it didn't want to go in as easy as I thought it would." When the pen bent and became useless, Nell Hamm went back to using the log. "That lion never flinched," she said. "I just knew it was going to kill him."
Finally, Nell slammed the log butt-end into the cat's snout. The lion had ignored her until then. At last, she had its attention. With blood on it's snout from her blow, the lion let go, stepped back, an stood glaring at her with its ears pinned back. "I thought he was going to attack me," she said. She continued to scream, waving the log, and then, thankfully, the cat slipped into the ferns and disappeared.
http://tchester.org/sgm/lists/lion_attacks_ca.html
California Black Bear Public Safety Incidents
DFG has recorded 12 ?bear attacks? since 1980.
http://www.dfg.ca.gov/news/issues/bear/bear_incidents.html
DR