Fishing on the Aztec, out of Seaforth Landing on a 2.5-Day trip: that left Friday night on 05-25-12. I left my office in San Bernardino at 2:20 pm, arriving Mission Bay at 4:15pm. My good friend Rick had arrived earlier and reserved our bunks for the trip, both nice double wide berths on the Starboard side. I was not the last to arrive, as several others got caught up in the Holiday traffic.
Departure-05-25-12
We left the dock at 5:25 pm and stopped to put 200 scoops of sardines in the bait wells. We then cleared the harbor at 6:45 pm.
Captain Mikey announced the game plan for the trip. We would head down the coast and stop in Ensenada Bay to take a look at the conditions, hoping for a bite on the Yellowtail that had been roaming around that area for weeks. The weather was expected to be decent in the morning on Saturday and very windy in the afternoon, with better conditions expected for Sunday. Depending on our results we would continue on to San Martin Island Saturday evening, or perhaps stop in Colonet.
The ride down the coast was bumpy, with 15+ knot winds and heavy seas. Fortunately we were headed downhill. At 4am, Captain Mikey decided Ensenada Bay deserved a look see. Water temps were between 61 and 62.5 degrees. I was up at 4:30 am and the smell of hot coffee brewing was sensational. Grey light comes early now, with a slight hue at 5am and full light at 5:30 am. Winds were out of the North East at 8 to 10 knots, certainly better than expected.
Day One 05-26-12:
At grey light Captain Mikey began slow trolling Rapalas, while cook Johno built up our appetite with Bacon on the grill, the aroma stimulating our hunger sensors. Breakfast consisted of a choice of Bacon, Eggs, and Cheese Burritos, or just Bacon or Ham, Eggs and Toast. I asked if Johno if he could prepare a Ham, Cheese, and Bacon Omelet, and he accommodated me, yum, yum!
The conditions looked good, and the birds were active. Several schools of Yellowtail were spotted, however, they sounded whenever we approached them. We made a number of drifts, with most of us Yo Yoing Iron. Reds, small Lingcod, assorted Rockfish and several large Calico Bass were caught as by product on the Iron. We drifted over some Yellowtail; they just didn?t want to play.
At 10am, it was time to put a few more fish on the boat, so we headed out to deeper water. Setting up on our first drift, at just over 300 feet, the sound of ?let them go? was made. A one pound weight was sufficient to hold bottom. On our first drift the stern had the advantage, as a number of Reds were hooked. It was a slow pick from there on for some Bank Perch, Green Spots, medium and smaller Reds and Starries. Fishing with a four hook Gangion, I could only catch a few Bank Perch and three medium sized Reds in the next several hours. The biggest Red I saw caught was about three pounds, so I didn?t take any pictures hoping for a more picture worthy event.
Captain Mikey decided we would move south to Soledad to fish shallow water Rockfish and Lingcod. It was a 12 mile run to the area. Cook Johno announced lunch, a choice of a Hamburger, Cheese Burger or Patty Melt.
At 1pm we anchored up in about 22 fathoms, on a very rocky bottom. The Lingcod were immediately on the chew, although the size were a mix of shorts, barely legal, and quite a few over 24?. We also caught lots of assorted Rockfish, including some very large Sculpin. A picture of a happy angler with a decent size Lingcod: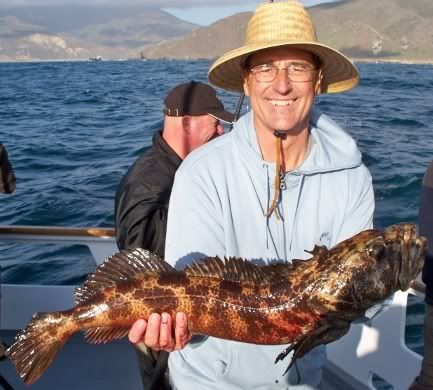 This spot dried up and on to another very rocky bottom area loaded with Lingcod. Although many were not keeper size, it was nonstop action, with plenty that made the grade. I released no less than a dozen at 22? or less and kept three at 24 to 26?.
Cook Johno announced afternoon snacks, Nachos with cheese, salsa, chives and sour cream.
We made several more moves around the area. The fishing slowed, yet the quality improved. One angler caught what was the largest Cabazon I have ever seen, about 12 pounds. Her is Captain Mikey displaying this big guy: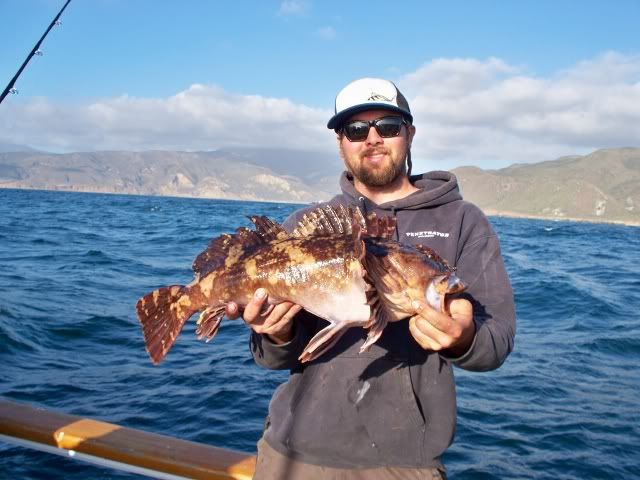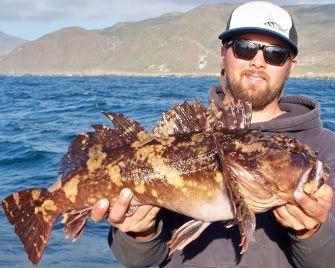 A couple of more good sized Lingcod in the 8 to 10 pound range were caught, and then I got hammered on my sardine rig. This fish took drag on my 40 pound outfit. A great fight to the surface and deckhand Shon does a nice head gaff to the big Lingcod, around 14 pounds: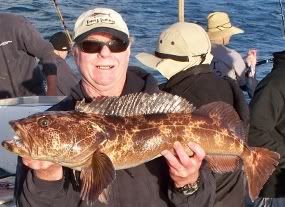 Check out this swell in the background:
[IMG]http://i1091.photobu]
It was getting close to dark, and we were off to San Martin Island. Everyone thought the huge Cabazon was a Jackpot contender, as well as several other big Lingcod; however the winner is, my Lingcod: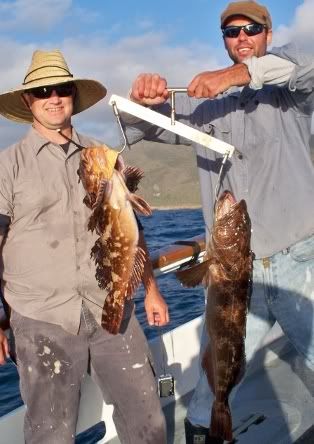 Cook Johno served up a fantastic Chicken Marcela, including a Rice Pilaf, Broccoli and Salad. Desert was Chocolate Chip Ice Cream. Some of us watched the movie Departed, however most hit the sack early. Although it was now blowing 15 knots, with rather large swells, the ride south was not too bad.
Day Two 05-27-12:
I heard the boat slow down about 3:30 am, and then I heard the anchor being released at about 4am. I rolled over and got up around 5:30am. Walked outside and nearly had my hat ripped off my head? I was blowing 30 knots, and my expectations for the day quickly deteriorated?
Johno got the day started off right with his patented Captain Crunch French Toast, served with slices of Honey Dew Melon and Cantaloupe. Hoping the wind would die down with the sunrise, we drifted for Halibut in the sand until everyone had completed Breakfast by 7am, with no biters. The water temps at the Island had dropped to 53 degrees and it rolled over to a Pukey green color, yikes! So much for targeting Yellowtail?
Captain Mikey ran around the Island; however the conditions were impossible to fish, so he ran out to the six fathom spot to target Whitefish and Sheephead, hoping the wind would relax later in the day. On the way down to the six, we witnessed something that most of us will never see again, an armada of Blue Whales, at least 20 to maybe 30 in a 360 degree spread, as you could see huge spouts of water in every direction. They were obviously feeding heavily on enormous schools of Krill, as the meter was lit up with a solid mass.
We finally set up on the edge, in between dodging the Blue Whales, and the conditions were just terrible. Huge swells, cold, dirty water, and too much wind! We picked away at a few Whitefish, Gopher Cod, Sculpin, small Reds, Lings, Starries and Coppers. We setup again and again for similar results. This area usually produces an abundance of big Whitefish, however today it just didn?t happen. At 11am the winds backed off somewhat. Here is one of the decent size Lingcod caught:
Captain Mikey decided we would head out past the breakers and fish for some deep water cod. Everyone was advised to put on at least a one pound sinker; I elected to go with two pounds. On the way there Johno announced lunch of Spaghetti, with a delicious meat sauce made with fresh grilled Bratwurst, and Garlic Bread.
Our first drift resulted in some decent Red fishing, plus some Green Spots, Chili Peppers and a few Lings. I managed only one Bank Perch on each of my first two drifts, then after some good bites, I lost some fish on the way up. Making another drift I hit the bottom and got absolutely slammed. This time I came up with a triple on the Reds.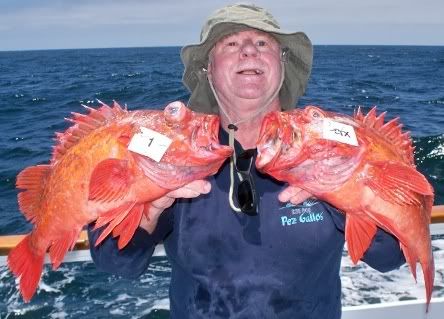 The Reds went on the chew for a while and everyone got in on some: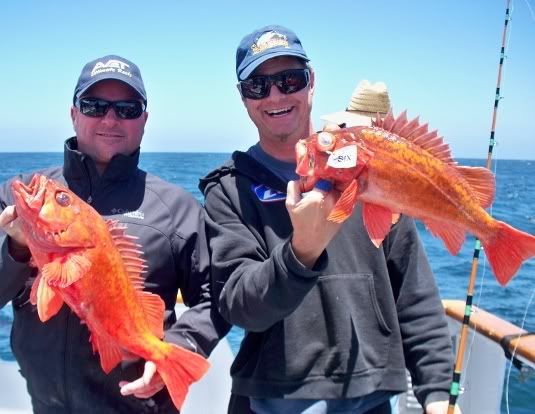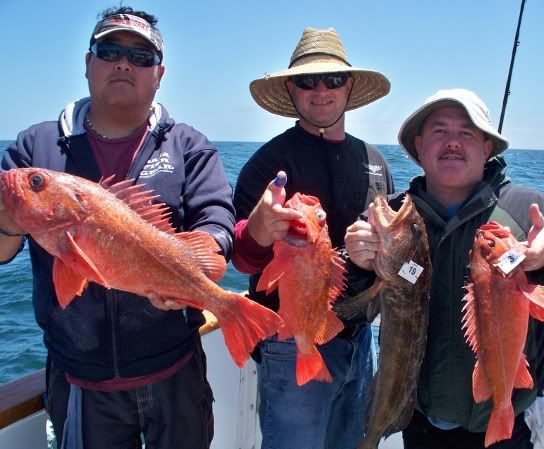 The catch ratio continued to decline as the day wore on, and the darn wind built back up, causing considerable scope out, despite the amount of weight used. We yelled uncle and back to the Island we went to fish the shallows. Conditions were improved enough to anchor in under 20 fathoms. We spent the rest of the day picking away at a variety of bottom critters. I must of caught and released at least a dozen Gopher Cod, a few S, a couple of Tree Fish, more small Lingcod and one 26 incher, plus another decent sized Red and some Whitefish.
At 4pm, Johno set out a fantastic snack of a baked potato bar, with melted cheese, chili, cilantro, salsa and sour cream, yum yum!
Late in the day the jackpot was decided by another big Lingcod: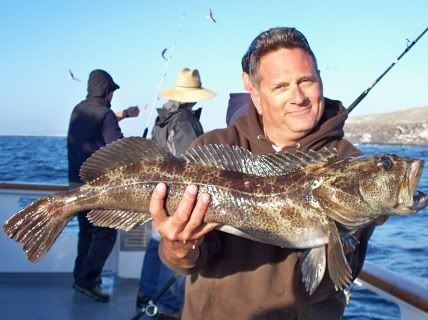 At 7:20 pm Captain Mikey said it was time to call it a trip. We were 150 miles from home, and would be heading directly up swell into 20 knot winds and 8 foot seas. ETA was estimated to be somewhere between 10 am and noon. It was closer to noon! A round of free drinks was announced to go with the dinner bell ringing in less than 20 minutes, so put the gear away and batten down the hatches.
A fabulous way to end the trip as dinner consisted of Filet Migon, a Caesar?s Salad, Chili, and Corn on the Cob, with deser being a Lemon Bundt Cake.
It was a rough ride uphill for the first five or six hours until the winds died down. We all woke up to grease calm seas. Go figure, a day late and a dollar short on the good weather? Oh well that?s how the game plays out sometimes. Never the less, the skipper gave it his all, and we all caught fish, despite unfavorable conditions. The Reds and Lingcod alone will make up some great meals. We will just have to be patient for another opportunity to catch some Yellowtail. Just can?t wait for the Tuna season to start soon.
The crew of Shon, Owen and Shawn worked their tails off to provide excellent service to all, kudos guys, you did a great job! Thanks so much Captain Mikey for a great adventure and safe passage home in difficult conditions. Hope we find the exotics on the chew and the seas calm on our next adventure together.
Hook up!
Cory